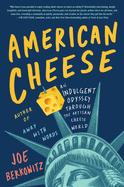 Whether readers answer the siren call of the cheese plate at a holiday party or travel to a specialty shop to hunt for something artisanal, they'll savor Joe Berkowitz's American Cheese.
Though books that dive deeply into specialized food worlds can sometimes feel pretentious or exclusionary, Berkowitz (Away with Words) is self-aware and self-deprecating enough to make this a funny, engaging piece of nonfiction for new gourmet cheese fanciers. As he recounts his journey from the grocery store to cheese-mongering competitions, Berkowitz writes not only about varieties of cheese, but the history of cheese worldwide and in the United States in particular. He talks about the impact of diet on the milk produced by cows, goats and sheep and on the final cheese. Most of all, he explores the process of making cheese, buying and selling it and enjoying it.
Because of the humor and joy with which Berkowitz talks about his "cheese odyssey," readers get swept up along with him. For example, when he attends a cheese-making course, he notes why no one signed up for the burrata class: "Poorly made burrata tastes like mushy, salty Silly Putty that is crying milky tears."
Accessible to readers inside or outside of the artisan cheese world, American Cheese is a delicious trip through the cheese landscape--one that may necessitate keeping a snack plate nearby. --Suzanne Krohn, editor, Love in Panels