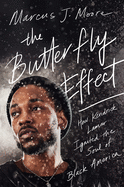 In The Butterfly Effect: How Kendrick Lamar Ignited the Soul of Black America, veteran music journalist Marcus J. Moore sculpts a thoroughly engaging, enlightening portrait not just of celebrated rapper Kendrick Lamar's life and music--in particular his landmark album To Pimp a Butterfly--but more broadly of Lamar's indelible stamp on contemporary musical landscapes and popular culture.
Why Lamar? Why now? Moore explains, "Though he isn't done creating (as of this writing), there's no denying the grand impact he's had on music and black culture over the past decade. His story is worth celebrating, so why not give him flowers now?" The rapper has certainly earned many accolades already--his album DAMN. won the Pulitzer Prize for music; Barack Obama called Lamar's 2015 song "How Much a Dollar Cost" his favorite of the year, and invited Lamar to the White House; he's earned more than a dozen Grammys.
Culling from extensive research, interviews with musicians and industry insiders and previously published interviews with Lamar, Moore traces and contextualizes Lamar's youth in Compton, Calif., his evolving persona and his ascension to celebrity. Moore also explores the roles of peers and mentors throughout Lamar's life, describing in fascinating detail ways the titans of (especially West Coast) rap have influenced Lamar.
Ultimately, The Butterfly Effect is more than an interesting biography: it's an investigation into what art can encapsulate and what kinds of change it can effect. And as Moore himself skillfully demonstrates, Lamar's contribution is worth celebrating, worth study, worth the flowers now. --Katie Weed, freelance writer and reviewer