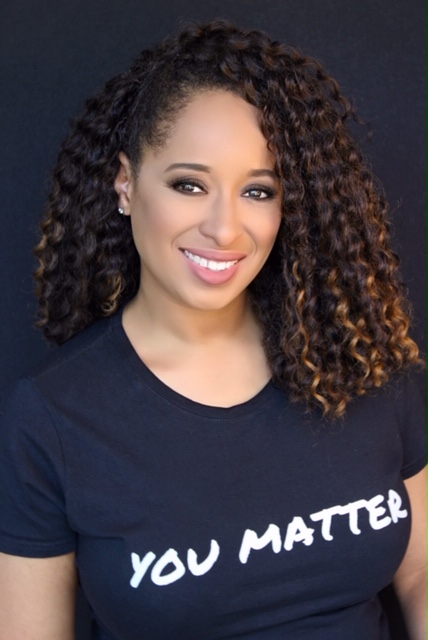 (photo: Krisann Binett)
Author Tami Charles is a former teacher. Her love for writing was sparked when she noticed a need for more diverse books. Her books include the middle-grade novel Like Vanessa and the picture book Freedom Soup. Shelf Awareness spoke with Charles about writing for her son, her purpose in the world and the message she hopes to spread with All Because You Matter (available October 6 from Orchard Books).
How did the story of All Because You Matter come about?
This story was born from love and a deep desire to keep my son, Christopher, little forever, which I think most parents can relate to! I wanted to keep him shielded from the cruelties of the world. But as he grew older and had questions about injustices against people of color, I needed to do something. What better way than to write Christopher a love letter to remind him of all the reasons why he matters to me, and to the world?
I took all of the words I had bottled up during the years of watching him grow, and I put them into a poem. The words for All Because You Matter came to me in a dream, and the art is masterfully done by Bryan Collier.
My son and I have used All Because You Matter as a springboard for many productive, yet sometimes uncomfortable conversations. As his mom, it's my job to nourish Christopher's curiosity. Writing this book has given him permission to put it on full display. It is my hope that it does the same for all families.
Your son is the model for the young boy in the story.
All Because You Matter is as much Christopher's book as it is mine and Bryan's. So you can imagine his delight when he received an invitation from Bryan to do a photo shoot for the book. That was worth missing a day of school! Christopher's image on the cover and throughout the entire story is a gift to our family. This kid will have bragging rights for years to come!
Like the young boy in the story, have you ever questioned your own existence in the world?
I'm a full-grown adult, and I still sometimes question my place in the world. For those reasons, I strongly feel that this is a book for everyone, with a message that we all need to hear. We matter. Children matter, especially.
For the times when my confidence has slipped and I questioned my purpose, I was instantly reminded of it when I would see my son thrive in school, or when I saw my book in young readers' hands and the joy it sparked on their faces. We all have a gift to leave those who will come after us--something to remind us of the very reason why we exist. This book will be my offering.
There are words of other languages in the story such as "barrios" and "Mahal kita." What is the significance of the use of those languages?
Oh, trust me, I wanted to use even more world languages in the text! Picture book word counts can be restrictive, alas. I'm a lover of languages, culture and travel. I also come from a multicultural family. Seeing different parts of the world has truly opened my eyes to the fullness of what it means to be human, but particularly, a person of color. Diversity is a beautiful thing and I aim to show that in my work because it represents who I am and the family and friends I surround myself with.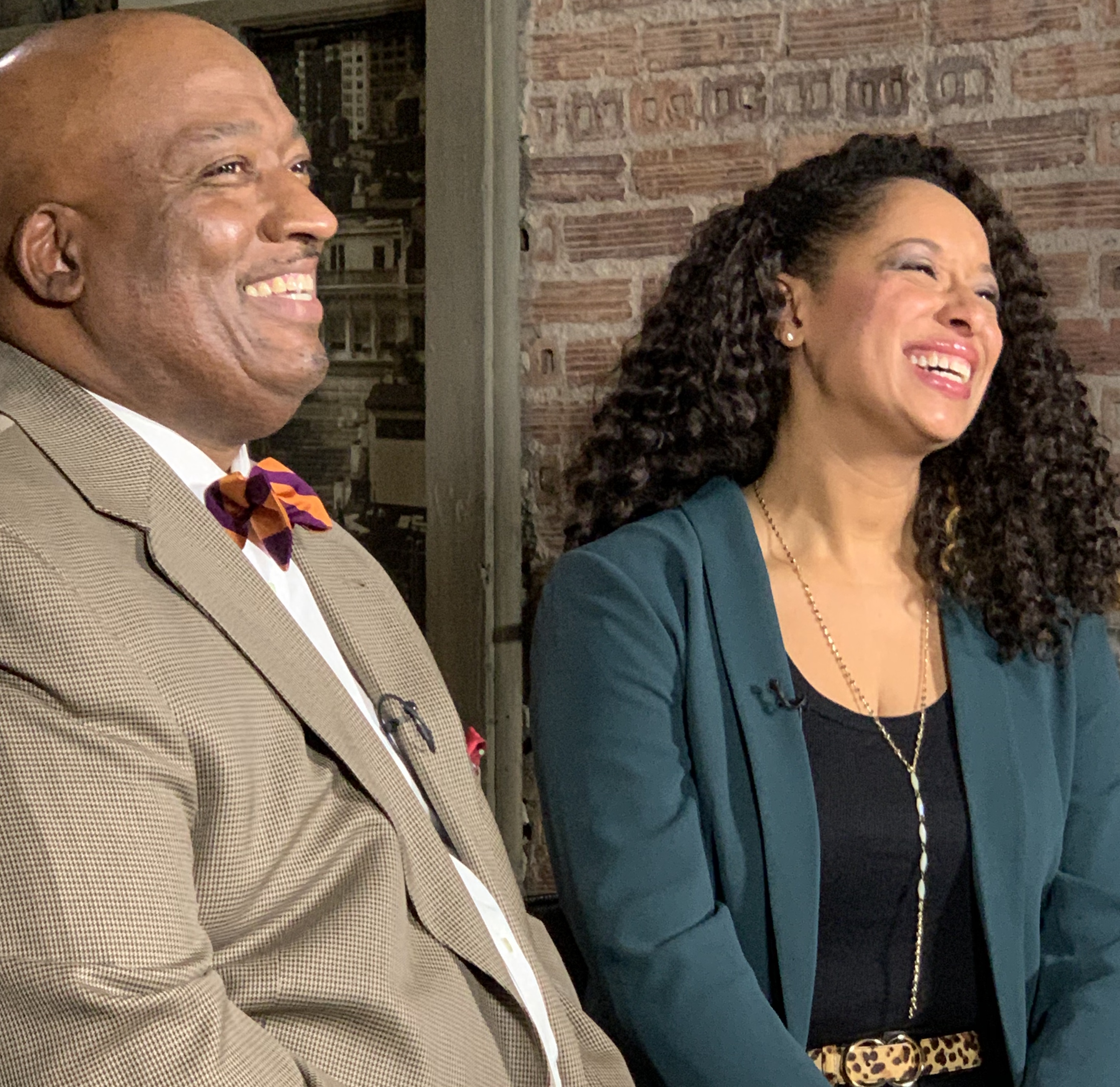 Bryan Collier and Tami Charles
In All Because You Matter, my hope is to honor children of color and the diverse backgrounds from which they come. The phrase "Mahal kita" (meaning "I love you" in Tagalog) is from the Philippines. To my ear, the words literally sound like love. "Barrio" and "montañas" are Spanish for "neighborhood" and "mountains," each word representing beauty and strength.
I use multiple languages in this text to show that BIPOC are not a monolith. We are multi-dialectal, multifaceted, a full-spectrum rainbow of experiences and talents to share with the world.
What is the message you hope adults and children will receive from reading All Because You Matter?
My first hope is that when readers are done with the book, they are compelled to turn back to the first page. Read it again. Find something new. A hidden gem in the art? A stanza that resonates with you? Think deeply about how the message applies to your life, no matter your race or background. Is it a love letter that you wish to share with someone special in your life? Is it a call-to-action that maybe you, as a teacher/adult/ally, want to use to spark deep, healthy conversation about race? Whatever feeling this book leaves you with, share it with others. Spread the message widely to those who need it most. --Kharissa Kenner
---
Bryan Collier: The Power of Art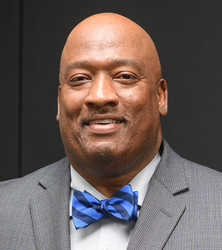 Bryan Collier is the author of Uptown, winner of the 2001 Coretta Scott King Illustration Award and 2001 Ezra Jack Keats Award for New Illustrator and the Marion Vannett Ridgeway Award for a first-time author and illustrator. Collier also received a 2002 Caldecott Honor for Martin's Big Words by Doreen Rappaport. Originally from rural Maryland, Collier now calls Harlem home. His love for art led him not only to a career as an author and illustrator but also as a director for Harlem Horizon Art Studio, an art program designed for young people based out of Harlem Hospital. Shelf Awareness spoke with Collier about the practical and metaphorical aspects of creating All Because You Matter by Tami Charles, available October 6 from Orchard Books.
How did you and author Tami Charles work together on this book?
After a few initial meetings, I knew I wanted Tami and her son to be the stars of this project, so we got together and did a photo shoot in a library.
Why did you choose to use watercolor and collage for this project?
I like watercolor and collage as a medium because collage itself is a metaphor for taking fragments or separate moments and constructing or piecing them together to create something whole or complete.
The use of partial faces as representation for the ancestors is profound. How did you come up with that idea?
The faces or voices represent our present selves, as well as ancestors. This serves as a reminder that we never walk into a room alone, they all come with us.
The fade on the young boy stands out. Is there a reason why you chose that hairstyle?
That high-top fade brought back some memories. But it was what Christian was sporting, so he and Tami get the credit for that great look.
Why is All Because You Matter an essential story?
All Because You Matter is literally happening right outside our windows and has been happening for years. This book speaks to injustice, police brutality, equality--all those difficult yet necessary conversations that we must have with our children to remind them that they are important. We are important. --Kharissa Kenner