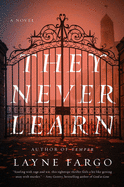 With They Never Learn, Layne Fargo earns high marks for a cerebral plot about female rage that centers on a college professor who thoughtfully plans to--without hesitation--murder men she believes deserve to die.
Fargo's highly entertaining standalone novel takes a similar tack as her incisive 2019 debut, Temper--women taking revenge on men who've gotten away with bad behavior. For Gorman University English professor Scarlett Clark, that retaliation takes the form of murders she disguises as suicides or accidents. Her victims are rapists and domestic abusers whom the college refuses to take action against or whose victims are too afraid to press charges.
Scarlett's 16-year pastime goes undetected until her latest casualty--starting quarterback and alleged rapist Tyler Elkin. Scarlett poisons him, then posts a suicide note on his Instagram account. She doesn't expect that Tyler's star status will prompt the Pennsylvania college to begin reviewing previous suicides. Despite that scrutiny, Scarlett moves forward to murder her department head, who has a reputation of seducing students and who is after a fellowship she wants. They Never Learn also follows Carly Schiller, a shy freshman who is overly protective of her roommate.
Fargo, co-creator of the podcast Unlikeable Female Characters, realistically draws together Scarlett's and Carly's stories while skillfully keeping the surprises coming. Scarlett's unflinching penchant for dispatching predatory men emerged from growing up in an abusive home. Even when her vigilant nature crosses the line with overt violence, Scarlett remains an empathetic character. --Oline H. Cogdill, freelance reviewer