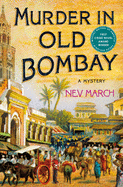 Mumbai-born debut novelist Nev March raises the specter of a real unsolved case in this action-filled and richly detailed historical mystery, set in Bombay, India, in 1892, under British colonial rule.
When two young ladies from a prominent Parsee household fall to their deaths from a university clocktower, an investigation fails to prove whether the tragedy stemmed from a suicide pact or foul play. Anglo-Indian Captain James Agnihotri of the Fourteenth Light Dragoons, convalescing in a Poona military hospital after Afghan soldiers ambushed his regiment in Kirachi, finds the case as captivating as the new Sherlock Holmes novel, The Sign of the Four.
After Adi Framji, the husband of one victim and brother of the other, publishes an impassioned letter in the Chronicle of India insisting neither woman would have killed herself, Jim offers his services as a novice investigator to the bereaved family to ease "the sharp burn of his grief." He believes that by using the Holmesian strategies of disguise and deduction, he can ferret out the truth behind the deaths.
March has created a likable, honorable sleuth whose humble origins and instinctive kindness make spending time with him a pleasure. A strong case of survivor's guilt and residual wartime trauma play counterpoint to his genial personality. The author sets an immersive scene, creating a detailed representation of the vibrant religious and cultural tapestry of Colonial India and the rigidly structured interlocking hierarchy of British rule and the Indian caste system. The story's resolution paves the way for further adventures, which March's readers will surely consider a welcome possibility. --Jaclyn Fulwood, blogger at Infinite Reads