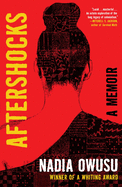 A stepmother's unwanted visit, a mother's unexpected phone call, a lover's departure--all happening in a single month--precipitated the breakdown that eventually engendered Whiting Award winner Nadia Owusu's penetrating memoir, Aftershocks.
Owusu spent her youth navigating multiple countries, with inconsistent permutations of family. Born to an Armenian American mother, Almas (who deserted Owusu at two), and Ghanaian father, Osei (whose United Nations career meant repeated relocations), Owusu learned early that "moving on was what we did." Osei remarried a Tanzanian woman, Anabel. Owusu's only stability was her unwavering bond with her father. When he died before Owusu's 14th birthday, with nowhere else to go, Owusu endured the rest of her childhood with the negligent, sometimes abusive Anabel.
At 18, Owusu arrived in New York City for college and stayed. A decade later, Owusu reluctantly meets Anabel for a fraught dinner, during which Anabel, in a moment of spite, insists Osei died of AIDS, not cancer. The allegation begins to mar his near-faultless legacy--that he could have cheated, could have lied--further unsettling Owusu's already fragile, medicated sense of self. Safe refuge seems to appear in a discarded blue chair she lugs home to her apartment. This one "felt familiar.... It felt almost like sitting on my father's lap." And there she remained, reexamining the many shocks that left her untethered. After seven days, she finally rises, to make her own solid, habitable world.
Beyond any imperfections, Owusu's raw vulnerability hauntingly, steadily beckons readers. By gathering "all the places I tried to belong to and all the people I long for," Owusu wills herself whole. --Terry Hong, Smithsonian BookDragon