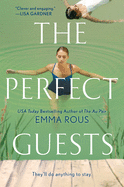 Emma Rous (The Au Pair) invites readers to Raven Hall in The Perfect Guests, a gothic thriller with a deep sense of place and a twining narrative that spans decades. In 1988, orphaned young teen Beth is taken in by a couple as a companion to their daughter, at an aging manor house set away from a small village in rural England. In 2019, floundering actress Sadie is hired to join a murder mystery party at the same home, newly renovated and soon to be rented out for more of these parties. A mysterious young woman tells her own story of Raven Hall in a third narrative, with Rous slowly revealing points of connection while building a creeping tension and dread throughout.
The present-day story is reminiscent of a less humorous and decidedly more gothic version of the film Clue. Characters are assigned names, such as "Miss Lamb," by the company that arranged the party and, when combined, an escalating series of small but creepy incidents add up to the classic gothic climax: running from the house screaming.
The past plot line feels like Anne of Green Gables gone horribly wrong. The Meyer-Averell family is reclusive for reasons unknown to Beth, and while her instincts tell her something's not right, she's also grateful that they've taken her in when her own aunt wouldn't. But at what point does gratitude lose out to self-preservation?
Raven Hall holds many secrets, and The Perfect Guests keeps Beth, Sadie and readers guessing as to whether the unease they feel is warranted and who's lurking around the corner. --Suzanne Krohn, editor, Love in Panels