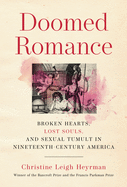 Christine Leigh Heyrman (Southern Cross; American Apostles) explores the romantic and sexual mores of the early evangelical movement in this fascinating history. Doomed Romance: Broken Hearts, Lost Souls, and Sexual Tumult in Nineteenth-Century America uses the lens of a particular New England love triangle to explore larger themes of missions, marriage and the role of women in society.
Martha Parker, a well-educated woman, didn't mean to set the New England gossips ablaze when she broke off her engagement to her second cousin, Thomas Tenney. She had met Elnathan Gridley, soon to become a missionary to Palestine, and a future as a missionary's wife--exploring exotic lands--seemed far more appealing than that of teacher's wife. But then Tenney refused to release her from their engagement, and before Parker knew what was happening, everyone from the head of the American Board of Commissioners for Foreign Missions to the president of Dartmouth was involved in her scandal.
Parker's fate serves as an example of the broader changes taking place in the evangelical churches of the time. Women had been allowed to lead in the church and in revivals in the early 19th century, but starting in the 1830s, their role diminished. Heyrman explores why these changes took place, explaining that "because evangelicals stood in the vanguard of educating and empowering women, they became the first to face its consequences." Well-researched and insightful, Doomed Romance is a compelling consideration of a little-known era in American religious history--especially given the contemporary connotations of evangelicalism. --Jessica Howard, bookseller at Bookmans, Tucson, Ariz.