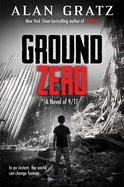 In this chilling, heartbreaking novel by Alan Gratz (Refugee; Code of Honor), two children, 18 years and a world apart, experience the aftermath of the 9/11 attacks.
On September 11, 2001, nine-year-old Brandon Chavez is in the North Tower of the World Trade Center, trying to escape after the plane has crashed into the building; on the same date in 2019, 11-year-old Reshmina struggles to survive in the war zone that is her Afghan village. Parallel and alternating narratives give a vivid picture of the children's respective experiences, providing valuable and nuanced history lessons. Moment by moment, readers witness unimaginable horrors as well as buoying glimpses of humanity.
Details of Brandon's and Reshmina's lives are harrowing and occasionally gruesome (reader discretion is definitely advised). Themes of revenge ("badal" in Pashto) play a part in both cultures, leading to a vicious circle that would be absurd if it wasn't so tragic. There's a pivotal moment, for example, when American soldiers realize that the Afghan villagers they've just bombed have never even heard of the 9/11 attacks. Yet the thread that weaves both narratives into a surprisingly beautiful fabric is people (sometimes strangers) coming together to take care of one another.
Gratz's fast-paced narrative, with cliff-hangers at the end of each chapter, speeds up even more as the storylines approach intersection. The fact-based Ground Zero includes a diagram of the World trade Center and a map of Afghanistan, as well as a comprehensive author's note--it is an excellent, if disturbing, examination of what 9/11 was all about. --Emilie Coulter, freelance writer and editor