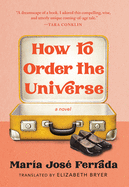 María José Ferrada's How to Order the Universe offers an imaginative view of Pinochet-era Chile through a child's eyes, as she assists her father in his work as a traveling salesman of Kramp brand hardware items. The world appears complex, fascinating and a little magical to M, the narrator. Elizabeth Bryer's whimsical translation from the Spanish feels appropriate to M's exceptional perspective.
Ferrada's playful, poignant novel opens with the story of a young man named D, whose "first sales attempt happened the same day a man took a step on the moon." He meets a beautiful woman. They marry and have a child, M, and so the narrator enters her own story. She begins accompanying D on his sales calls when she is seven. M's school attendance is sporadic; her work as D's assistant is important to both of them, and M's mother is a bit detached.
M's narrative voice is solemn, serious. She is a little obsessed with categories and classification. M is a precocious philosopher, but also a child, for whom certain realities eventually come as a surprise. When the family circumstances unexpectedly change, "There were two possibilities: A. Precariousness had always been with us, and I'd never noticed. B. Something had changed. Whichever it was, my childhood memories fractured: crack."
How to Order the Universe is fanciful, sweet and moving, as M gradually registers and questions the changing world she inhabits, wrestling with violence, absence, the ability to make one's own luck "with well-shined shoes and the right outfit." This is a beautifully translated, thought-provoking novel of profound themes and childlike wonder. --Julia Kastner, librarian and blogger at pagesofjulia