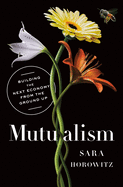 Founder of the Freelancers Union and recipient of a MacArthur Foundation genius grant, lawyer and organizer Sara Horowitz makes a persuasive case in Mutualism: Building the Next Economy from the Ground Up for a new constellation of social and economic relationships she hopes will help transform American society.
According to Horowitz (The Freelancer's Bible), tens of millions of Americans have been "working harder than ever, and yet they've been asked to bear both the burden of and blame for their precarity." The result of "neglect on the left and sabotage on the right," these developments have left too many people without what were once mainstays of American working life--employer-provided health insurance or income security in retirement--a situation that has been exacerbated by the coronavirus pandemic.
Her solution is "mutualism," a set of social and economic relationships grounded in "community institutions that deliver decision-making power directly to citizens." The percentage of unionized workers has shrunk from 35% to 6.2% in the private sector in the past 65 years, and some 57 million Americans, including many highly educated professionals, work outside a traditional employer-employee relationship. Offering an assortment of historical and contemporary examples, Horowitz explains how mutualist organizations--hybrid entities that are neither socialist nor capitalist and include the cooperative movement--can begin to mend some of the tears that have been rent in the social safety net.
Horowitz's argument is both concrete and visionary. Enlightened political and business leaders and thoughtful Americans in general will find a useful collection of ideas and a wealth of supporting data here to guide them on a new path to help shape the economy that will emerge when the coronavirus is a distant memory. --Harvey Freedenberg, freelance reviewer