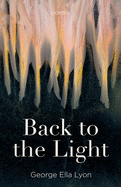 Through the 46 moving poems in Back to the Light, George Ella Lyon takes readers on a journey with her.
The specificity with which she re-creates a moment in each--whether noticing a third-grader at one of her school visits, or the moment at age five when an older boy sexually assaults her, or the way a stone she finds puts her in mind of Virginia Woolf's suicide--adds up to a cumulative epiphany by the collection's end, and offers an overriding sense of hope.
In the first poem, Lyon (Which Side Are You On?) confides to readers about "writing as a way/ to connect with your inside self, your story." She follows with a poem about the breath, then a musing on what it might be like if the body could "trade places with the head," using homonyms to haunting effect: "To steel yourself/ is/ to steal yourself." Lyon answers the unspoken question (steel yourself against what?) with the poem "Out with It," in which she describes how she "left my body to survive/ He was twelve, he was twelve/ I was five." Other poems explore how, labeled a liar by her mother, this girl of five retreats in "Trapdoor," and then how music and poetry--the experience of singing and writing and listening--slowly return her to herself.
With the final lines, Lyon has brought readers full circle, to a place of wholeness, imparting her hard-won wisdom and paving the way for all to connect with their "inside self." --Jennifer M. Brown, senior editor, Shelf Awareness