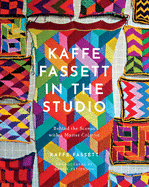 In this lush and stunning coffee-table book, artist, textile designer and author Kaffe Fassett (Kaffe Fassett's Bold Blooms and Dreaming in Color) takes readers on a rare, intimate tour of his London studio home
Kaffe Fassett in the Studio: Behind the Scenes with a Master Colorist is divided into three parts, and the vibrant patterns and colors leap out from almost every one of its 240 pages. Part one describes his studio and home life, including glimpses into his living space, creative team, daily life and routines, and the sources of his inspiration.
Part two features his creations and offers insights on the many artforms he works with, such as patchwork, knitting and painting. Fassett's versatility and skill are apparent throughout, and everything he does is imbued with the passion and joy that is his signature--from the textile designs that he is most famous for to mosaics, needlepoint and styling his own home. Finally, part three provides detailed project instructions, as well as quilting and needlepoint templates and basics.
Fassett's writing is as welcoming as the décor in his home. The undone artistry of quilts draped over well-loved furniture, vintage crockery, treasured bolts of fabric and volumes of cherished books all serve to elevate and inspire. As he writes, "Color is such a giant enigma, changing and revealing different possibilities each time one concentrates on it for more than a moment." Kaffe Fassett in the Studio, itself a tapestry of prints and hues, will likewise offer these different possibilities with each reading. --Grace Rajendran, freelance reviewer and literary events producer