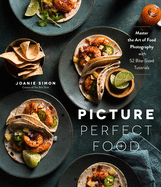 Whether you want to up your Instagram ante or take eye-catching pictures for a food blog, Picture Perfect Food: Master the Art of Food Photography with 52 Bite-Sized Tutorials is the perfect guide to taking more delectable pictures of food. Joanie Simon, a prolific food writer and photographer, offers dynamic tips on everything from "Using the Right Depth of Field for a Scene" and "Using Implied Movement to Hook the Viewer" to "Navigating the Three-Quarter Shot" and "How to Make Flat Foods Look Fabulous."
Filled with amazing food pictures, helpful strategies and an encouraging tone, Picture Perfect Food is an approachable, useful guide that will appeal to photographers of all capabilities. Some tips are more complicated--offering specific aperture and shutter speed advice--while other techniques are geared especially toward phone camera users. Simon offers challenges to help the photographer practice and improve: capturing an image where you intentionally limit the light in a scene; shooting eggs with different color temperatures; using a specific rubric to analyze food magazine photos that are especially appealing.
Simon's attention to detail is fantastic; she even includes recipes for pancakes and syrup that photograph particularly well. Amateurs and professional photographers alike are sure to appreciate Picture Perfect Food's assistance in taking their photos from mediocre to mouthwatering. --Jessica Howard, bookseller at Bookmans, Tucson, Ariz.