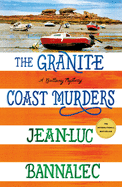 Jean-Luc Bannalec (Death in Brittany; The Killing Tide) has created a funny, intriguing mystery set on Brittany's exquisite Côte de Granit Rose in The Granite Coast Murders. Commissaire Georges Dupin's girlfriend Claire and assistant Nolwenn have conspired to force him to take a two-week vacation. Dupin, a workaholic, reluctantly lies on a beach towel next to Claire all day, as she basks in the gorgeous setting.
But then, one of their fellow hotel guests disappears, and Dupin begins sneakily to investigate. He skulks around the area, interviewing townspeople, visiting the gossipy hairdresser and stealthily calling Nolwenn to convince her to help him with research. Claire is suspicious as Dupin's hair keeps getting shorter, but he's quite proud of himself for conducting an investigation without her knowledge. When a dead woman turns up in a nearby granite quarry, and the body is not that of the missing hotel guest, Dupin becomes certain that something sinister is afoot.
Clever and amusing, The Granite Coast Murders is a delightful novel that effortlessly transports readers to the astoundingly beautiful Pink Granite Coast. Readers may find themselves doing wistful image searches after reading, but they're also sure to seek out more of Dupin's adventures. Although The Granite Coast Murders is the sixth entry in the Georges Dupin series, because Dupin is on vacation, it can easily be read as a standalone. Perfect for fans of Louise Penny or Mark Pryor, The Granite Coast Murders is not to be missed. --Jessica Howard, bookseller at Bookmans, Tucson, Ariz.