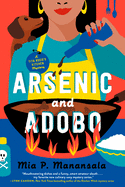 Strong, take-charge, wise-cracking women are the backbone of Arsenic and Adobo, Mia Manansala's fun firecracker of a first cozy mystery.
Lila Macapagal is a whip-smart, willful, 25-year-old Asian American. She retreats from Chicago to her hometown of Shady Palms, Ill., intent on recovering from the sting of a cheating beau, while tasked to save her Tita (Aunt) Rosie's failing Filipino restaurant. But when Derek Winter--Lila's first love, a self-important, self-proclaimed restaurant reviewer with a vindictive ax to grind--sets out to pan the eating establishment, all hell breaks loose. During one of Derek's reconnaissance meals, he has a confrontation with Lila, then face-plants right into one of her signature treats and drops dead. When poisoning is ruled the culprit, Lila becomes the prime suspect and matters escalate, forcing Lila to figure a way to exonerate herself and root out the real killer.
Family and Filipino culture--especially the sumptuous fusion food--are front and center in a madcap mystery populated with a strong supporting cast. This includes Lila's commanding grandmother Lola Flor, and the "Calendar Crew," Lila's meddling godmothers, April, Mae and June. This trio of outspoken women, all in their 50s, were friends of Lila's late mother. There's also Lila's best friend, Pakistani Muslim barista Adeena Awan, and her swoon-worthy, older brother, Amir, a lawyer.
Cozy mystery lovers--and foodies--will be licking their literary chops, eagerly awaiting the next installment in this winning, multicultural series that also offers a delectable blend of romcom and whodunnit elements. --Kathleen Gerard, blogger at Reading Between the Lines