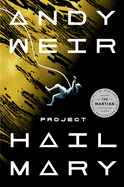 Andy Weir (The Martian; Artemis) has created a propulsive space adventure in Project Hail Mary. The story centers on Dr. Ryland Grace, a middle-school biology teacher, whose obscure paper about alien races comes to the attention of some important individuals when the sun starts rapidly fading. More than half of humanity is predicted to die, and the earth's ecology will be in shambles if scientists can't figure out why the sun has suddenly started losing heat.
The problem is: Ryland doesn't know this at first. He awakens from a coma, finds his shipmates dead and realizes to his horror that he's millions of miles away from Earth. He's struggling with amnesia, attempting to piece together what was happening on Earth before the Hail Mary launched, and why he is alone in this faraway galaxy. Luckily for the fate of humanity, Ryland is a quick study, good at piecing together bits of information and able to make some fairly wacky calculations to keep himself alive.
Fans of The Martian or John Scalzi's Interdependency trilogy are sure to love Project Hail Mary, as it mixes the pathos of the fate of humanity with the humor of Ryland's bumbling around his spaceship, and his frequent use of "gosh darn" and "oh fudge" (middle-school teacher habits are apparently very hard to break). Funny, poignant and full of interesting science, Project Hail Mary is a wild ride that is chock full of interstellar secrets. --Jessica Howard, bookseller at Bookmans, Tucson, Ariz.