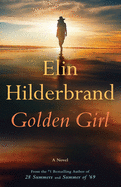 Prolific novelist Elin Hilderbrand (28 Summers) ponders death, grief and the hereafter in the beautifully uplifting Golden Girl.
As the book commences, Vivi Howe--successful author of 13 novels and a 51-year-old divorced mother of three--dies in a hit-and-run accident near her home on Nantucket Island. Once Vivi's soul ascends from Earth, she is assigned a spirit guide, Martha, who allows her to view one last summer as life goes on without her for her three adult children, their father (her ex), her best friend and an old flame. As Vivi monitors from afar, she can give three "nudges" to alter the shape of events as they unfold in the lives of those she's left behind.
What ensues is an emotionally powerful story largely centered on Vivi's three children, all named for authors. Willa, the oldest, is married and pregnant again after suffering two miscarriages. When a long-lost beau of Vivi surfaces, Willa becomes intrigued to learn more about the life her mother led--and the secrets she kept--before marriage and family. Beautiful, rebellious middle child Carson gets swept up in substance abuse and makes histrionic bad choices. And Leo, an angsty high school senior about to start college, faces romantic turmoil. Threaded throughout the story is an ongoing investigation into who might've killed their mother.
Faithful readers have come to depend on Hilderbrand's top-notch escapist fiction that puts lively, dramatic new spins on families challenged by love and loss. Golden Girl will exceed their expectations. --Kathleen Gerard, blogger at Reading Between the Lines