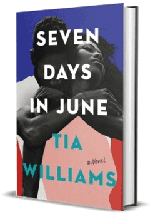 Sparkling with delicious sensuality and an intriguing plot, Seven Days in June by Tia Williams transports readers to the literary heart of New York in pre-pandemic times, when it was possible for publicists, authors and their fans to mingle at elegant parties and splashy promotional events with abandon. At the novel's heart is a captivating contemporary story of romantic connection and love in an unforgiving world, overlaid with challenging themes of poverty, disability and childhood trauma that the author fearlessly addresses with grace and tenderness.
Eva Mercy is a successful "vampire erotica" author, a single mother and Princeton dropout living in Park Slope, Brooklyn. Her long-running Cursed book series is celebrated by fans who eagerly await the next installment. Eva is grateful for Cursed: it pays the bills, including her pre-teen daughter Audre's school fees at the audaciously expensive Cheshire Prep. The problem is that Eva, already struggling with disabling, chronic migraines, lacks motivation to plow through writing another Cursed book. She would rather explore and write about her French Louisiana Creole heritage and spiritual forebears--including a formidable grandmother who killed her husband while in the throes of a violent headache.
Eva's lonely, peripatetic childhood left much to be desired, lacking the stability she insists is Audre's birthright. Young Eva and her mother, Lizette, moved frequently, their livelihood dependent on Lizette's sleazy boyfriends. Relocating from Cincinnati to Washington, D.C., in Eva's senior year of high school was disruptive on many levels, but it's where she found friendship in the form of a brooding loner, a boy with a broken arm and stunning "gold-flecked chestnut eyes." Shane Hall is an orphan living in a group home, and he's as untethered as she is. When he gets into trouble defending Eva from a class bully, the two escape and spend a week together blissfully high on drugs, alcohol and each other. Then Shane disappears without a trace, leaving Eva bereft and heartbroken.
Williams (The Accidental Diva; The Perfect Find) artfully alternates between Eva's teenage years and her present-day role as a mother and author, the two vastly different stages in her life linked only by the monstrous migraines that have plagued her since childhood. She is a warrior who battles debilitating pain every day, but her vulnerability is actually her greatest strength--the sheer determination she brings to her days when others in her place might have given up.
Now, the last thing Eva needs in her life is a man. It's enough that she's managing her health, the Cursed franchise and the delightfully precocious Audre, who, behind her mother's back, charges her classmates $20 for Snapchat therapy sessions. So when Shane, now an award-winning writer, shows up unexpectedly 15 years later at a "State of the Black Author" event in Brooklyn where Eva is a panelist, she is determined not to engage with him.
Shane's reappearance brings back the anguish of his abandonment. Eva is still angry. Shane, for his part, wants to apologize and make things right as part of his AA recovery. A famous recluse, hailed as a living literary legend, Shane spends his spare time helping at-risk youth in underserved schools, offering them the support he wishes he had received as a child. As a measure of their preoccupation with each other despite the years apart, the protagonist in Shane's novels is modeled on Eva, while the divinely sexy vampire in Cursed bears a striking resemblance to him.
Williams's warm writing style bursts with compassion for Eva, Shane and the damaged children they once were. As Eva lets down her guard with Shane, Williams creates exquisite scenes of their slow, gorgeous reunion, including a magical summer afternoon they spend indulging their senses with decadent ice cream and rediscovering their passion for each other, an afternoon that "radiated an infectious, lazy-day calm." Readers will feel deep satisfaction observing the enigmatic Shane uncoil and release his past trauma as he and Eva hurtle into a romance powered by their imperfect history and a desire to reclaim their shared narrative.
Seven Days in June also shines in its celebration of strong female friendships and the unabashed pursuit of joy, reminiscent of Terry McMillan's beloved '90s classic How Stella Got Her Groove Back. Williams skillfully blends uplifting, hilarious moments into the story through a sensational supporting cast.
Once the mystery of teenage Shane's disappearance is resolved and he is drawn into Eva and Audre's irresistible orbit, the love story that is Eva and Shane's destiny takes on a glorious, yet uncertain, life of its own. The tantalizing question of whether or not they have the staying power necessary for a long-term commitment will be on readers' minds long after they have devoured Seven Days in June. --Shahina Piyarali