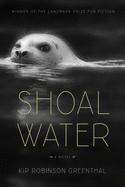 Kip Robinson Greenthal's enchanting debut novel, Shoal Water, begins with one couple's flight from the daunting disappointments of their past toward the promise of a better life along the barren coastline of a small fishing village in Nova Scotia. Greenthal, a former education director for Seattle Arts & Lectures, received the Landmark Prize for Fiction in 2020 for this shimmering paean to the stark beauty of Nova Scotia, where she lived for 12 years.
In 1971, Kate and her boyfriend, Andy, leave the jagged shards of shattered families behind to build a new future together in Slate Harbour, Nova Scotia, where Andy spent several years as a child. Moving into Andy's old house--supposedly haunted by the ghost of fisherman Basil Tannard, who believed a selkie saved him from drowning one storm-tossed night--they fall into the rhythms of the tightly knit community, which includes Andy's childhood best friend, Ivan. The powerful undercurrents of past demons and an unforeseen love triangle move silently under the surface for years of marriage and children, until the wave breaks upon them all with shattering consequences.
Greenthal creates an atmosphere as thick as the fog blanketing the harbor with her deep knowledge of Nova Scotian people, folklore and sea life. Her finely drawn and sympathetic characters are rendered in lovely prose that elevates their suffering without descending into pathos. Shoal Water is a highly attuned and poetic first novel of people finding their paths amid forces beyond their control. --Peggy Kurkowski, book reviewer and copywriter in Denver, Colo.