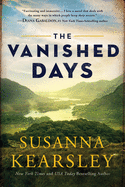 Susanna Kearsley (Bellewether; Season of Storms) has written another fascinating tale of the Jacobites' attempts to reclaim the Scottish throne. Meticulously researched, with intensely interesting characters, this standalone novel pairs perfectly with Kearsley's Slains series. Set in 1707 Scotland, The Vanished Days tells the story of a young widow named Lily Graeme, a woman whose complicated life parallels that of Scotland itself.
Lily's husband perished in Darien--Scotland's attempted colony in Panama--and she's seeking restitution. Adam Williamson is assigned to investigate the validity of Lily's claim, which forces Lily to share much of her history with him. The tale unfolds in a series of flashbacks to Lily's childhood and young adulthood in the 1680s and 1690s, as the Presbyterian and Episcopalian and Catholic factions within Scotland were simultaneously at war among themselves, and with England.
Lily's family was against unification, and supported King James and the Stewart cause until, after her father's untimely death, the orphaned Lily found herself in increasingly dire straits. Williamson soon realizes that Lily's stories may be unduly influencing him, as he fights his attraction to the pretty young widow.
Atmospheric and fast-paced, yet still exploring the rifts in Scottish society with nuance, The Vanished Days showcases Kearsley's ability nimbly to blend politics and personal tragedy with a side of romance. Perfect for everyone all caught up on Outlander, this is historical fiction at its finest. --Jessica Howard, bookseller at Bookmans, Tucson, Ariz.