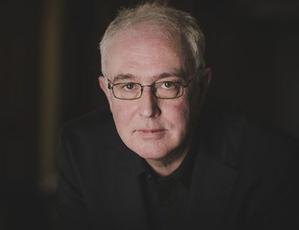 photo: Urszula Soltys
Joseph O'Connor is the author of 18 books, including the novels Cowboys and Indians (Whitbread Prize shortlist), Redemption Falls, Ghost Light (Los Angeles Times Book of the Year shortlist; Dublin One City One Book choice 2011) and The Thrill of It All, two collections of short stories, True Believers and Where Have You Been?, plays, film scripts and adaptations, six nonfiction books and hundreds of radio diaries. His novel Star of the Sea has sold more than a million copies. In 2011, O'Connor won the Irish PEN Award for Outstanding Achievement in Literature. His novel Shadowplay (Europa Editions paperback, Nov. 9, 2021) is a historical and gothic romp through the golden age of West End theater in a London shaken by the crimes of Jack the Ripper. It won the Eason Irish Novel of the Year Award and was shortlisted for five other prizes in France, Ireland and the U.K., including the Costa Novel Award 2020.
On your nightstand now:
The End of the World Is a Cul-de-Sac, a breathtaking collection of short stories by the Irish writer Louise Kennedy. The Situation and the Story by Vivian Gornick, whose work I love. The brilliant novel Foregone by Russell Banks. This Hostel Life by Melatu Uche Okorie. Then, Craft in the Real World by Matthew Salesses, a fascinating book that offers alternatives to how creative writing is usually taught.
Favorite book when you were a child:
So many, but I come back to Great Expectations. I don't think I will get over the beauty of its closing lines: "I took her hand in mine, and we went out of the ruined place; and, as the morning mists had risen long ago when I first left the forge, so the evening mists were rising now, and in all the broad expanse of tranquil light they showed to me, I saw no shadow of another parting from her." I mean, wow. Game over. Goodnight.
Your top five authors:
It varies, but Peter Carey, Toni Morrison and F. Scott Fitzgerald are always in my top five. At the moment, the English novelist Elizabeth Taylor is there also, as is the poet Denise Levertov, whose poem "A Map of the Western Part of the County of Essex in England" always fills me with awed admiration.
Book you've faked reading:
In 1985, my university tutor, the fine writer Seamus Deane, suggested I read Wise Blood by Flannery O'Connor. I didn't. At our next meeting, Seamus asked me what I had thought of it. I replied that I had admired Flannery O'Connor's style but found his storytelling a little complicated, which is the kind of thing you can get away with saying about almost any book ever published. Seamus permitted the conversation to continue for a minute or two before quietly pointing out that Flannery O'Connor was a woman. Since that mortifying moment, I have never faked reading a book.
Book you're an evangelist for:
I absolutely adore the work of Lydia Davis who, as well as being a writer of astonishing power, is a hugely accomplished translator. Her version of The Way by Swann's, volume one of Proust's masterpiece, À la recherche du temps perdu, will be relished by any lover of storytelling and language. A sumptuous, beautiful, stupendous achievement.
Book you've bought for the cover:
I don't remember ever buying a book for its cover but, as a teenager, I did buy the Patti Smith album Horses and the Muddy Waters album At Newport 1960 for their covers. Two magnificent records from great American storytellers.
Book you hid from your parents:
My parents didn't mind what anyone read; indeed their own large collection of books included banned titles by Edna O'Brien and others.
Book that changed your life:
When I was 17, my first girlfriend gave me a copy of The Catcher in the Rye. It's the book that made me want to be a writer. I still reread it every few years, like going on pilgrimage.
Favorite line from a book:
"Every life is many days, day after day. We walk through ourselves, meeting robbers, ghosts, giants, old men, young men, wives, widows, brothers-in-love, but always meeting ourselves." From James Joyce's Ulysses.
Five books you'll never part with:
A few years ago, my wife gave me a beautiful first edition of Francis James Child's The English and Scottish Popular Ballads. It's in five volumes and I wouldn't part with any of them.
Book you most want to read again for the first time:
Bram Stoker's Dracula is a novel I've been reading and returning to since I was 13. (Stoker is the central character of my own novel Shadowplay.) I never read it without noticing something new and absolutely wonderful, but the first time was unforgettable and life-changing.
The most important thing you've learned over the years as a writer:
My job is to provide the sheet music. It's the reader who sings the song.