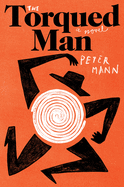 In Peter Mann's debut, The Torqued Man, two manuscripts intertwine in a twisty literary thriller where nothing is what it seems.
Adrian de Groot, a German military intelligence officer who despises the Nazis but is unable to find a way to avoid submitting to them, writes in his journal about recruiting an Irishman named Frank Pike, who has been released from imprisonment under Generalissimo Francisco Franco's regime in Spain for that purpose. De Groot's supervisors hope IRA fighter Pike can deliver Irish support for a joint attack against England. But their initial mission is aborted, and Pike remains in Berlin until a use can be found for him.
Pike's journals reveal a different story, in which he has been planted as a secret agent and, in the absence of more specific instructions, makes it his mission to eliminate Nazi doctors. The two narratives combine a morbidly dark comedy with an edge-of-your-seat suspense story. Only readers see both sides--but do even they know the truth? Fact and fiction intertwine, and if Pike's story contradicts the historical record, that may mean that his entire manuscript is invented, or merely that he stretched some facts or was mistaken about an individual incident.
The inner workings of the two narrators' minds, questions about the nature of truth and shocking twists will leave readers eager for more of Mann's work. --Kristen Allen-Vogel, information services librarian at Dayton Metro Library