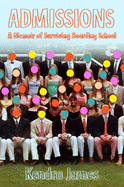 Kendra James spent the first few years of her professional career recruiting diverse students for elite prep schools. As the graduate of an independent school herself--the first legacy African American student at the Taft School in Watertown, Conn.--James began to have mixed feelings about promoting the prep school experience to Black and brown kids, having survived countless racist comments and micro-aggressions during her years at Taft. Her reflections on her educational experience led her to write Admissions: A Memoir of Surviving Boarding School.
Micro-aggressions at school--including a roommate who constantly complained about how smelly James's hair products were, and a "friend" who got the school administration involved over a missing $20 bill--meant James always had to be alert and ready to defend herself. As James shares now, she doesn't plan to offer her kids the same educational experience she had, because "that feeling of being the Only One isn't something I will be able to shield my kids from, but I certainly don't have to actively seek it out for them."
With wit and insight, Admissions explores the kind of upper-class education that most Americans have seen only in movies. James analyzes the racist attitudes she had to deal with, tells funny stories of her nerdy ways and fondly recalls the days of AIM chats. People of color who survived mostly white schools are sure to sympathize with James's experiences, but anyone will enjoy her perceptive storytelling. --Jessica Howard, bookseller at Bookmans, Flagstaff, Ariz.