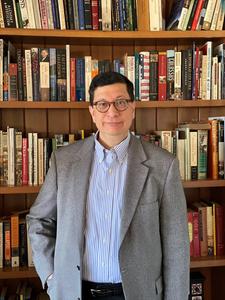 Jorge Luis Contreras is the author of The Genome Defense: Inside the Epic Legal Battle to Determine Who Owns Your DNA (Algonquin, October 26, 2021), an exploration of the groundbreaking court case that pitted the ACLU against a biotech giant. Contreras is a law professor at the University of Utah with an adjunct appointment in the Department of Human Genetics. He holds a law degree from Harvard Law School and undergraduate degrees in electrical engineering and English literature from Rice University. He lives in Salt Lake City with his spouse and two Siberian cats.
On your nightstand now:
I'm generally reading three different books at any given time: a physical book (literally on my nightstand), an e-book on my phone and an audiobook, also on my phone. Right now, I am enjoying Erik Larson's The Splendid and the Vile, a lively popular history of the Battle of Britain focusing on its chief architects, Winston Churchill and Hermann Goering; Mary Doria Russell's The Sparrow, an acclaimed first-contact science fiction novel involving the Jesuit order, that I never got around to reading when it came out; and Andrea Wulf's The Invention of Nature, an engaging biography of Alexander von Humboldt, the most famous 18th century scientist-explorer that most people have never heard of.
Favorite book when you were a child:
In the fourth grade, I read Edgar Rice Burroughs's pulp science fiction novel A Princess of Mars and couldn't put it down. I got my entire class hooked on the book and its many sequels (11 in all). When I used the book as the subject of a book report, my teacher didn't know what to make of it at all. But for me it was great fun. I was thrilled to see so many references to the old potboiler in Junot Díaz's hilarious The Brief Wondrous Life of Oscar Wao.
Your top five fiction authors:
Gabriel García Márquez, Kazuo Ishiguro, Gene Wolfe, William Gibson, Cormac McCarthy.
I've gone off script here, and have divided this question into two, as I think of fiction and nonfiction in entirely different ways. With fiction, for me, much of it has to do with style. Each of these authors has a compelling and instantly recognizable voice, and I would read anything that any of them has written. Coupled with style is subject. As this list reveals, I have a taste for the fantastical, and admire an author's ability to build a world that is both novel and believable.
Your top five nonfiction authors:
Walter Isaacson, Erik Larson, Tim Wu, Siddhartha Mukherjee, David McCullough
I view good nonfiction as engaging, narrative and informative. With a good writer, I am willing to learn about whatever subject they choose. This said, I also value an author's ability to tell a story that is new or to put a new perspective on an old story. In short, I want to learn things, to expand my horizons and do so in a way that is engaging and intellectually satisfying.
Book you've faked reading:
In my junior year of college, I had a massive computer science project due when William Faulkner's Absalom, Absalom! was assigned in a modern American lit class. I couldn't get through it (and possibly didn't even begin). I suspect that Faulkner would have forgiven me, but now I may be inspired to go back to it.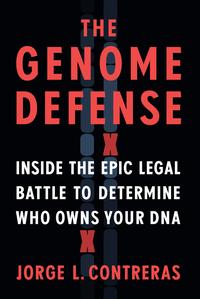 Book you're an evangelist for:
T.H. White's The Once and Future King, the Arthurian legend as a parable of human nature and political theory. Everyone should read this book to understand American post-war history and society.
Book you've bought for the cover:
A copy of the 1936 English translation of Juan Hernandez's epic gaucho poem Martin Fierro which is bound in cow hide (not leather, but actual treated hide, with fur!)
Book you hid from your parents:
I don't recall ever doing this. A magazine, maybe, but never a book.
Favorite line from a book:
"Reader, I married him." I majored in English literature and am a sucker for 19th-century novels. I've read Charlotte Brontë's Jane Eyre several times, but I have few reading experiences as memorable as my first encounter with that line. Brontë's out-of-the-blue, hit-you-with-a-wall-of-bricks shift to the second person is truly astonishing, and just what the reader needs at this point in the narrative.
Five books you'll never part with:
Now that most books are instantly available on demand, the reasons for keeping physical copies of books have become decoupled from their content. Or have they? I sometimes ask myself why I still have thousands of physical books. Some are valuable as objects in themselves, some are out of print and will never be available again, and some have a value that is purely sentimental.
Five physical copies that I will never part with for some or all of these reasons are: (1) a first Mexican edition of Gabriel García Márquez's Del amor y otros demonios that he inscribed to me in Mexico City in 1997; (2) a slender paperback produced by the Department of the Interior called Fifty Birds of Town and City, whose images I still think of when I see a bird in the backyard; (3) a paperback copy of physicist George Gamow's One Two Three... Infinity, which showed me the joys of mathematics; (4) William Bridges's photoguide The Bronx Zoo Book of Wild Animals, a book that I received as a gift as a child--probably the first book I remember, and (5) the Shutterfly photobook that I created for our last cat, Tom Jones.