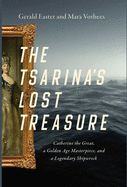 The Tsarina's Lost Treasure: Catherine the Great, a Golden Age Masterpiece, and a Legendary Shipwreck is ostensibly the story of the ill-fated Vrouw Maria and its precious cargo, but Gerald Easter and Mara Vorhees use the framework of the ship's disaster to recount a saga that spans from Rembrandt to Vladimir Putin. Easter (Capital, Coercion and Post-Communist States) and Vorhees (Lonely Planet: Finland) combine their political and travel expertise in a fascinating tale.
Gerrit Dou, one of Rembrandt's best pupils, created a beautiful painted oak triptych called The Nursery, the most sought-after piece of art among Golden Age collectors. A century later, as Catherine the Great solidified her power and expanded Russia's art collections, her "compulsion to collect and obsession to outbid inadvertently helped to redefine the relationship between art, power, and people in the modern world." When Dutch art collector Gerrit Braamcamp died in 1771 and The Nursery came up for sale, Catherine pounced. Her agents purchased The Nursery and loaded it aboard the Vrouw Maria, only to have the ship founder off the Finnish coast in the Baltic Sea. There it lay for 228 years, until a Finnish wreck-diver found it in 1999.
The Tsarina's Lost Treasure reads almost like fiction as Easter and Vorhees explore the many figures involved in the historical shipwreck, as well as the modern oligarchs and academics battling in the courts for the rights to the treasure. Readers of historical fiction, true crime or history books are all sure to enjoy The Tsarina's Lost Treasure. --Jessica Howard, bookseller at Bookmans, Tucson, Ariz.