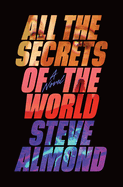 The fates of two Sacramento families in the 1980s collide most spectacularly in All the Secrets of the World by Steve Almond (Bad Stories; Against Football). This sweeping drama follows 13-year-old Lorena Saenz and a troubled scientist whose disappearance sets in motion a flawed criminal investigation that will ultimately ensnare Lorena's undocumented brother, Tony.
Nerdy and academically brilliant Lorena and popular rich girl Jenny Stallworth are middle-schoolers who exist in different social spheres, their paths unlikely to cross if not for their teacher pairing them for a science project. Lorena finds herself invited to the Stallworth mansion, where she develops an all-consuming crush on Jenny's father, Marcus, a scientist who studies scorpions. A quiet academic, Marcus is barely able to contain his inner demons and struggles against his worst impulses and temptations, especially when it comes to Lorena's fast-emerging womanhood and her tendency to show up at his study uninvited.
Tracking his characters from the Sacramento suburbs through the desert toward Yuma, Ariz., and beyond, Almond paints a satirically astute portrait of Reagan's America, with California the epicenter of the president's anti-crime campaign. When Marcus disappears and his Jeep is found abandoned south of Death Valley, foul play is suspected and Tony, the lowest-hanging fruit of possible suspects, is arrested.
With cleverly overlapping subplots and a memorable cast of characters that includes a polygamous cult leader living on a Mexican ranch, Almond's meticulously researched first novel is a triumph of storytelling powered by a central theme: the perilous disconnect between those who control or abuse systems of power and the individuals who are at the losing end of the power dynamic. --Shahina Piyarali, reviewer