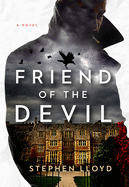 Stephen Lloyd's Friend of the Devil offers a captivating blend of madcap mischief, terrifying and gory malevolence and thoughtful ruminations on humanity. Gruesome, deadly serious and frequently hilarious, this novel is an unusual cocktail.
Sam Gregory works as an inspector for an insurance company, responsible for rooting out fraud and solving cases like this one: a valuable antique book gone missing from the library of Danforth Putnam, a snooty boarding school on an island off the coast of Massachusetts. A war veteran with PTSD, Sam feels only a jaded weariness at the privileged antics of the students (and for that matter, the staff), but dutifully searches for the missing volume, sure there's nothing here but another case of a drug-addled teen or disgruntled employee.
Sam is so wrong. But on his way to shocking, elemental horrors, he will meet magnetic characters like the indomitable Harriet (D&D dungeon master, student journalist, extreme nerd and loyal friend) and bitter, acerbic Dale (a charity case at Danforth, which no one will ever let him forget). What haunts Danforth and its very special missing book will turn out to be seriously sinister, and by the time Sam approaches its true nature--supernatural, or simple human evil?--the stakes will be ultimate.
Lloyd, who is also a TV writer and producer (Modern Family; How I Met Your Mother), showcases a talent for description and rich sensory detail from the first pages, when readers meet the rarified denizens of Danforth. Friend of the Devil's unusual brand of gore and laughs is wildly, wickedly entertaining and positively unforgettable. --Julia Kastner, librarian and blogger at pagesofjulia