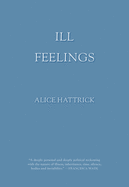 In their first book, Ill Feelings, British writer Alice Hattrick bears fascinating witness to the arduous burden of sickness and chronic infirmity. It is a deeply personal, thoroughly researched, philosophical memoir.
In 1995, Hattrick's mother contracted pneumonia. In her long struggle to recover, she developed a series of chronic, disabling symptoms that greatly diminished her quality of life, stymied doctors and markedly shaped Hattrick's childhood. After years of being belittled and cruelly undermined by medical practitioners, who often attributed her symptoms to "hysteria," Hattrick's mother was ultimately diagnosed with myalgic encephalomyelitis/chronic fatigue syndrome (ME/CFS), a complex manifestation of greatly misunderstood symptoms due to an "overactive immune system," for which there is no definitive cause or cure.
Hattrick's mother's story is remarkable in itself. However, when Hattrick starts to manifest chillingly similar symptoms, their stories entwine and tangle: sick, heartbroken mother and daughter are both forced to battle a cold, impersonal medical bureaucracy. Probing the experiences of their shared, long-term disability inspires a quest for insight, understanding and meaning. Hattrick draws on journal entries, sifts information gathered from medical consultations and case notes, and mines the lives of other notable women who also struggled with mysterious illnesses that isolated and marginalized them from society.
Hattrick's multi-faceted, poetically drawn account elevates the traditional illness narrative. The breadth of information presented--the astute, carefully considered issues raised--even stretches into the Covid-19 virus, which has left legions to combat a range of staggering long-haul symptoms that often mirror the disruptive manifestations of ME/CFS. Hopefully, Hattrick's moving account will encourage more research into mysterious ailments and their long-term bio-social-physiological implications. --Kathleen Gerard, blogger at Reading Between the Lines