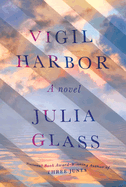 Brecht, a 22-year-old survivor of a New York City terrorist bombing, suggests a dreaded--and plausible--future: "The bar's going up on surviving what's to come." In Julia Glass's seventh novel, Vigil Harbor, the residents of a Massachusetts coastal community acknowledge that, a decade after the first Covid lockdown, "storms... no longer repay the ground they borrow." Yet as the sea rises, the engaging villagers' air of cautious resilience inspires hope.
As in Three Junes, I See You Everywhere and Glass's other novels, Vigil Harbor's humanity resonates in characters who narrate their stories in alternating chapters. Vigil Harbor feels normal, despite scenes of climate disasters and terrorism scrolling on screens. A group of parents capably home-school their kids; a respected Latino landscaper maintains properties, planting wind-resistant trees; and a renowned architect designs buildings that will withstand hurricanes. Small-town drama vies for attention with global issues when marital infidelity rocks the yacht club. When Ernesto Soltera, a charming but evasive visitor to the gardener's family, slowly raises suspicion and Petra Coyle, an out-of-town journalist, insinuates herself into village life, a growing sense of unease creeps into the saga. The suspense escalates, with the narrators' threads merging in a dramatic crisis.
Glass (And the Dark Sacred Night) includes conflicting climate-change extremists, like the "EndTimer Party," yet projects optimism as villagers embrace the future. While the sea holds increasing threats, it also offers a hint of magic: a beautiful silver seal and an elusive, seductive woman swim in and out of the novel. Maybe a mythological selkie represents hope? --Cheryl McKeon, Book House of Stuyvesant Plaza, Albany, N.Y.