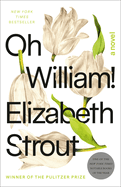 Pulitzer Prize-winner Elizabeth Strout (My Name Is Lucy Barton; Anything Is Possible) has the remarkable ability to engage audiences immediately with just a few opening sentences. Her marvelous eighth novel, Oh William!--named one of the 10 Best Books of the Year by the New York Times Book Review, the Washington Post and Time magazine--is no different, made even more inviting by continuing her Amgash series. Reading all three in chronological order promises gratifying insights, but, as with all of Strout's work, each title is satisfying on its own.
"I would like to say a few things about my first husband, William," Lucy Barton begins. He's 71 now, and "been through some very sad events." Lucy herself is 63, a lauded novelist still living in New York City, recently widowed following the death of her second husband. Here, though, she spotlights William, to whom she was married for almost 20 years. In the decades since their divorce, they've remained remarkably close.
William is battling night terrors that involve his late mother, Catherine. In life, Catherine was especially close to both William and Lucy; her premature death happened during their marriage, making Lucy the only partner of William whom Catherine knew. He can't share that past with his third wife, Estelle, 22 years younger. So when Estelle abandons William, taking their 10-year-old daughter, William again turns to Lucy for support. He also takes advantage of Estelle's last Christmas gift--a subscription to an ancestry website that he initially disdained--and what he discovers is so shocking that, once more, he must rely on Lucy to make sense of what he's learned.
It's Lucy's razor-sharp observations about identity and relationships that propel Strout's narrative toward deeply empathic self-awareness. Her vast audiences will (again) be enthralled. --Terry Hong, Smithsonian BookDragon