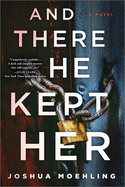 Joshua Moehling's debut novel, And There He Kept Her, is a thought-provoking thriller that doesn't shy away from either horror or complexity. Featuring sheriff's deputy Ben Packard, this is the start of a rich and suspenseful series, a small-town crime drama with pulse-pounding potential.
Jesse and Jenny, two teenagers stuck in their small hometown of Sandy Lake, Minn., have broken into elderly Emmett Burr's home to steal his prescription pills. But as they nervously sneak through the boarded-up basement, they uncover a dark secret, one that Burr will do anything to keep hidden.
When Jesse and Jenny's disappearance comes to the attention of Ben Packard, the new-to-town deputy suspects they might just be a pair of teenaged lovebird runaways. That is, until Jenny's mom (who happens to be Packard's cousin) reveals two things: Jenny is a Type 1 diabetic without her insulin, and she left her cell phone behind. From there it becomes a race against the clock for Packard to find the two teens. Meanwhile, for him, the story of a missing teenager near Sandy Lake touches a raw nerve: his own brother disappeared there years earlier, never to be found. Packard thought his return to Sandy Lake might offer a respite from his previous post as a police officer in Minneapolis, where a devastating loss left him in search of a new home. But with some Sandy Lake residents wary of their new sheriff's deputy being gay, and this fraught case proving trickier than he first thought, Packard will have to confront the secrets both he and Sandy Lake have kept buried.
Packard provides a strong foundation for Moehling's crime thriller, offering a new take on the familiar police hero genre. Rather than playing the part of noir detective or maverick cop, Packard is a level-headed, pragmatic officer whose care for his newfound community complements rather than challenges his desire to uphold the law. Similarly, Packard's multifaceted, tragic past doesn't serve as a stumbling block for his present investigation. Instead, it enriches his understanding of those centrally involved in the case. In this way, Moehling restages his hero's backstory as a strength--a source of empathy, and the seed of Packard's insight into the human condition, despite its haunting resonances with his personal life.
Sandy Lake itself is just as central to And There He Kept Her as Packard. It's an atmospherically complex small-town setting with a textured cast of characters. Moehling captures the class, race and gender relations in this community, avoiding idealizations in favor of no-nonsense realism. Jesse's family, for example, provides a look into the tense home life of teenagers here, further developing a character like Jesse beyond any stereotypical drug-dealing boy. Jenny, too, emerges fully formed through the depiction of her family life and surroundings. Even characters with little page time, like these two teens, take on fully formed lives.
But it is Emmett Burr, the novel's villain, who emerges from And There He Kept Her as the most completely developed and complicated character. Eschewing cheap twists for emotional intensity and complex moral quandaries, Moehling crafts a plot that is dependent on readers knowing, practically from the start, who is to blame for the central crime at hand. Doing so may result in a less stringent focus on the novel's "mystery," but it allows for a more insightful set of thematic interests, a more nuanced cast of nefarious characters and a more slow-burn engine for the novel's tension. By spending a great deal of time with the story's main antagonist--who is elderly, obese and in failing health--readers come to know Emmett as almost a dark double to Packard, making him just as foundational to the novel's core. Moehling never excuses or sentimentalizes Emmett's horrific actions, yet he nevertheless manages to illustrate the man's motivations and weaknesses in a way that makes him understandable. What's more, the novel's climax puts readers in the uncomfortable position of having to see Emmett in a semi-heroic light, recognizing that not all evil is equal, nor are all good deeds fully redemptive.
The novel's darkness at times threatens to overwhelm its characters and tone alike. However, Moehling offers brief but powerful comforts in the midst of his plot's horrors. Packard's burgeoning friendship with local dog rescuer Gary, his supportive partnership with his coworker Kelly, and his undeniable bond with a disfigured, adopted corgi all offer welcome lightness throughout the novel. Moehling doesn't flinch from the raw details of what happens in Emmett Burr's basement, but he acknowledges, too, the potential joys in the world outside it. Loneliness can corrupt a person, but connection nevertheless remains, miraculously, possible. --Alice Martin