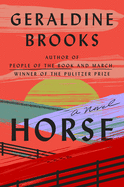 For her sixth novel, Pulitzer Prize-winning author Geraldine Brooks (March; Caleb's Crossing) crafts the biography of a seminal horse in the guise of a marvelous novel. Brooks moves among key characters in the shaping of the horse's life in the pre-Civil War South, and those who bring the significance of a long-forgotten horse skeleton to light nearly two centuries later.
The book opens with the discovery of a discarded painting of a horse. Theo is a Black doctoral student at Georgetown studying art history in 2019, and he seeks to learn more about this painting he found in a neighbor's trash. A chance encounter with Jess, an Australian managing the Smithsonian's vertebrate Osteology Prep Lab, blossoms into a relationship. It is fraught with misunderstanding on Jess's part, of what Theo's experience is like as a Black man living in Washington, D.C. But they form a connection based on their mutual interest in this horse, his for its history, represented through art, and hers for the scientific puzzle the horse presents.
The most moving and compelling relationship of the novel, however, is that between the horse, named Darley and later knighted Lexington, and Jarret, the enslaved boy--and later man--who trained and cared for the horse from its foaling to stud sire to his retirement to pasture. Through Jarret's story, the author reveals the unusual and indispensable role Black trainers and jockeys played in the pre-Civil War South.
Equestrians or not, readers will appreciate Brooks's invitation to linger awhile among beautiful and graceful horses, to see the devotion they engendered in her characters and in the author (a horsewoman) herself. --Jennifer M. Brown