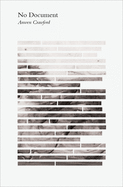 Australian critic and artist Anwen Crawford (Hole's Live Through This) writes a potent elegy for a friendship in her formally ambitious second book, No Document. More than companionship, the relationship she describes is one aspiring to greatness--in art, in ethics, in humanity.
The book is dedicated to Ned Sevil (1980-2010), someone Crawford connected with in art school and pursued as a collaborator through tumultuous political circumstances in Australia, which reverberated throughout the Indigenous land that country was built upon. Trading linear narrative for dynamic line breaks, for erasure poetry, for news stories, Crawford draws lines between the work she did with Sevil, their activism, and the precedents set by their artistic and radical forebears. "All revolutions run into history," she writes, "yet history is not full."
This chameleon approach--with its numerous ideas about artistic expression, political power and colonial violence enjambed at alarming angles--can make the book's exquisite sentences challenging to absorb. Nevertheless, Crawford's devotion to her subject persists as safety in a storm. "Nothing we made was meant to last," she says of her work with Sevil. "Nothing we made has lasted for as long as what we made by making together."
No Document is an elegant memoir of grief, at once as personal as a dead loved one and as global as a ravaged earth. Near the conclusion, Crawford says bluntly that she does not believe that art-making can change the world by simple virtue of its materials; however, its capacity to imagine a better, freer future still makes it a noble pursuit. This extraordinary book may be slender, but it carries the weight of the modern world. --Dave Wheeler, associate editor, Shelf Awareness