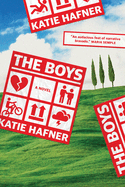 The charming, witty love story between solitary Ethan and "people person" Barb in The Boys includes a plot twist that invites an immediate reread and will have readers looking for the "aha!" clue that reveals how Katie Hafner (Mother Daughter Me) so thoughtfully constructed her first novel.
"My romance with Barb played out at megahertz speed," Ethan recalls in this first-person narrative. A romantic date at a jukebox diner leads to a "joined at the proverbial hip" relationship for the endearing couple. Vivacious research psychologist Barb adores tech-nerd Ethan, who relishes her affection. "You're a pearl," Barb says. "You're this beautiful object formed from all the grit inside the oyster shell." But Ethan knows the grit remains, residue from a childhood tragedy he can't articulate to Barb. When they learn their happy marriage won't produce children, Barb surprises Ethan by offering to foster eight-year-old orphaned twins. Ethan's protectiveness turns to obsession with the boys' well-being, when the 2020 pandemic lockdown occurs, unwittingly excluding Barb and jeopardizing the marriage. In a chapter related in a third-person perspective, Ethan takes the boys on a bicycle tour to Italy, where a thoughtful young tour guide leads Ethan to self-realization and healing.
Likable characters whose flaws are limited to an excess of love and compassion flourish in a plot that journalist Hafner infuses with details from her years of science and music writing. The novel also possesses a generosity of spirit for Ethan and Barb--and a well-deserved, heartwarming affirmation of their love. --Cheryl McKeon, Book House of Stuyvesant Plaza, Albany, N.Y.