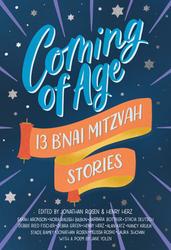 Henry Herz and Jonathan Rosen, co-editors of Coming of Age: 13 B'Nai Mitzvah Stories (Albert Whitman, $17.99), chat about bringing together this collection of stories for young readers focused on the Jewish experience of coming-of-age.
Henry Herz is the author of 12 picture books, including I Am Smoke. He has written children's short stories for Highlights for Children, Ladybug magazine, Metastellar and Blackstone Publishing.
Jonathan Rosen is an agent at the Seymour Agency and the author of the Spooky Middle Grade titles, Night of the Living Cuddle Bunnies and its sequel, From Sunset till Sunrise. He is an administrator of the middle-grade reading site FromtheMixedUpFiles.com and the co-host of the YouTube channel Pop Culture Retro.
Henry Herz: Why did you want to create Coming of Age?
Jonathan Rosen: The inspiration was basically a desire to see more Jewish stories. There seemed to be a lack of inclusion for Jewish-centric stories, and it would be nice for Jewish kids to see themselves or others like them in print. Thankfully, when the subject was broached to other Jewish authors, the vast majority of them agreed to sign on, pretty much for the same reason. They also felt the need for increased Jewish representation in kid lit.
Would you like to tell Shelf Awareness readers about how contributing authors were selected?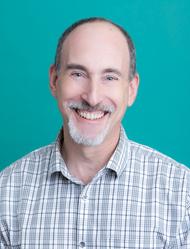 Henry Herz
HH: You and I put our heads together to create a list of Jewish authors whose writing we respected. We originally wanted 18 authors, because that number symbolizes chai (life) in Judaism. But for various reasons, we ended up at 13, which also resonates since it is the common age of becoming b'nai mitzvah. We are very happy with the team of authors that joined the project. And the legendary Jane Yolen providing a poem was the cherry on top. (Upon hearing me use the term legendary to describe her, Jane assured me she is quite real.) Can you give those unfamiliar with b'nai mitzvah an overview of the ritual?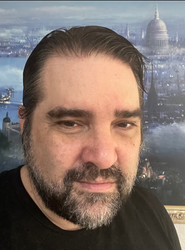 Jonathan Rosen
JR: It really is a milestone of a Jewish child's life, a rite of passage in a way. Usually, when a boy becomes 13 and a girl 12, they are considered adults and are ready to take part in Jewish ceremonies. The ritual varies, but often includes co-leading a religious service in Hebrew with the rabbi, chanting from the Torah in a prescribed melody, offering an interpretation of the Torah passage and conducting a mitzvah project ahead of time that contributes to social justice. The festive meal and party afterward are a modern addition.
I personally loved the inclusion of Yiddish words in some of the stories in this collection.
HH: The Yiddish language originated in ninth-century Central Europe as a blend of Hebrew and German. Or as Billy Crystal joked, a blend of German and phlegm, acknowledging the frequency of the back-of-the-throat-clearing sounds in Yiddish words like chutzpah (nerve) and mishpacha (family). Yiddish terms are firmly rooted in Ashkenazi Jewish culture and traditions. But many have worked their way into everyday English, like klutz, mazel tov, nosh, shmooze, shmuck and tuchus. (Here is a delightful video of a young girl explaining some of these terms.) Two of my favorites are, "I need this like a hole in the head" and, "Don't worry. It will heal before the wedding," which is a way to assuage someone's concerns.
So, tell me about your bar mitzvah!
JR: I had my bar mitzvah at the Western Wall in Israel. We were living there at the time, and I remember thinking about all the multitudes of similar experiences that had taken place there before mine. It really impacted me. While the story I wrote for Coming of Age doesn't take from that experience, the feeling of respecting what came before definitely did.
HH: I wasn't there for my bar mitzvah, but we visited the Wall a year later. I remember being so moved when I noticed my father stuffing a note in a crevice, as many people do. I felt quite sure it was a prayer on behalf of me, my brothers and my mother.
JR: What was it like editing others' stories?
HH: It was a ton of fun. And I was surprised that three of the 13 stories were science fiction. I did not see that coming. The topics, themes and writing styles vary considerably, but are all lovely. And isn't that the point of an anthology? I felt a bit of imposter syndrome co-editing an anthology featuring Jane Yolen and two New York Times bestselling authors, though.
What do you want readers to get out of this anthology?
JR: First and foremost, I want and hope for readers to be entertained. The only agenda this anthology had was to get Jewish stories out there. Other than that, the purpose was to entertain. It really is a matter of what was said before: I want Jewish kids to see stories where they and the issues that they face are front and center. In reality, every kid who reads this should be able to see a part of themselves and see that we are all alike. Do you think one has to be Jewish to enjoy the stories?
HH: Definitely not. These are stories anyone can appreciate. While Jewish readers may smile at terms and traditions with fond memory, it is important for non-Jews to see that struggling through adolescence and family dynamics are the same for all people. We also hope that these stories will build bridges and perhaps when Jews aren't "othered," they'll suffer less antisemitism.
JR: Yes, there are so many different types of stories in the anthology, in different genres, that there will be something for everyone. It will also be nice for Jewish kids to read about Jewish themes. And, while I know it probably won't be automatically picked up by non-Jewish kids, there is a hope that if some do, it can create a better understanding and closeness.
HH: How has the book been received so far?
JR: Thankfully, the book has been warmly received. We've heard from many teachers, bloggers, parents and--most importantly--kids who have really embraced the book. It helped that there were so many different styles within, so there really is something for everyone.
HH: Any advice for the aspiring Jewish teen writers who are reading this interview?
JR: You really need to read and write a lot. Especially in the genres that you like to write. And write whenever you can. It doesn't matter if the first times you try are not good. That's what revision is for. But first, you want to get those words on paper, and let your creativity flow. Most importantly, don't let anyone discourage you or tell you that you're not good. Everything is subjective. You keep going. That's the only way to get better and don't let anyone deprive you of something that you enjoy doing.