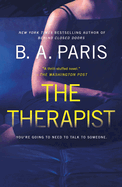 Most homes have had previous residents, although new occupants put their own touches on each room. It's those past tenants--and what happened to them--that worry Alice Dawson, who's bought a beautiful house with her boyfriend, Leo Curtis, in The Circle, a London gated community of 12 homes that B.A. Paris (Behind Closed Doors) explores in The Therapist, her fifth engrossing psychological thriller.
After a few nights, Alice starts to hate the house and discovers the neighbors are standoffish, and a few times Leo believes someone else is in their home. Then, Alice learns that therapist Nina Maxwell was murdered upstairs the year before; her husband, Oliver, committed suicide after being accused of the crime. Alice is furious that Leo didn't mention the murder, and her reactions intensify because she feels connected with women named Nina: her sister, Nina, was killed in a car accident along with their parents. She agrees to help investigator Thomas Grainger, hired by Oliver's sister, find the killer.
Paris creates vivid character studies for each resident of The Circle, including the murdered Nina. Alice could use a therapist herself as her anxiety and obsession are out of control, yet she still engenders sympathy. Alice desperately wants love and friendship, and to be accepted by her neighbors--though she suspects one of them is Nina's murderer. The Circle's secluded location isn't exactly a Peyton Place, but each resident has secrets, including Leo.
The Therapist skillfully melds a twisty, psychological thriller with a contemporary approach to the locked-room mystery. --Oline H. Cogdill, freelance reviewer