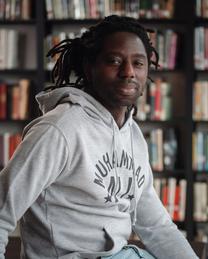 photo: Roque Nonini
Sidik Fofana earned his MFA from New York University and is a public school teacher in Brooklyn. He was named a fellow at the Center for Fiction in 2018. His work has appeared in the Sewanee Review and Granta. His debut, Stories from the Tenants Downstairs (Scribner), offers eight narratives about residents of a fictional building in Harlem.
Handsell readers your book in 25 words or less:
Eight tenants from a Harlem high-rise tell you stories about their problems while the almighty landlord hovers over them.
On your nightstand now:
I sleep on a futon in the basement, or the couch in the living room, and only every now and then in an actual bed. But on the "nightstand" would be Wolf Hall by Hilary Mantel. I watch a little bit of the BBC series, then read some of the book. I don't know what it is, but I love reading about crazy white people.
Favorite book when you were a child:
Hands down Matilda by Roald Dahl. Although I did read Runaway Ralph by Beverly Cleary 100 times. Oh and can't forget Charlotte's Web. Shout out to E.B. White whose darkest joke was writing a book that made kids cry.
Your top five authors
Living: Edward P. Jones, Junot Díaz, Lorrie Moore, Chimamanda Ngozi Adichie, Jeffrey Eugenides. Bonus: Zadie Smith.
Dead: José Saramago, John Steinbeck, Frank McCourt, Langston Hughes and Toni Morrison.
Emcees: Tupac, Nas, Andre 3000, Lauryn Hill and Mos Def, Phonte or Kendrick depending on how I feel that day.
Book you've faked reading:
Don't get me in trouble! Infinite Jest by David Foster Wallace. I remember brilliant parts like the riff on that one man's obsession with episodes of M*A*S*H, but I'm just not that cerebral.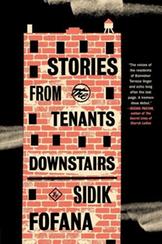 Book you're an evangelist for:
Post-Traumatic by Chantal V. Johnson. My sister book, born the same year as my own. I've heard her read from it several times, and each time has been a transcendent experience.
Book that you bought for the cover:
Ladies and Gentlemen, the Bronx Is Burning by Jonathan Mahler. Didn't know at the time that it was the cover that reeled me in, but it is gray and frenetic just like New York is.
Book you hid from your parents:
I never hid a book from a parent, but my mom hid a book from me. Well, she didn't actually hide it since I found it in plain view on top of her dresser. She just never mentioned that she had bought it for herself. It was a biography of Nelson Mandela meant for young readers.
Book that changed your life:
Native Son by Richard Wright hit me like a ton of bricks. I was supposed to read it for a class and didn't get to it until two nights before it was due. It was one of the first times I remember reading something for school that didn't feel like homework.
Favorite line from a book:
"& the boys outside walgreens selling candy/ for a possibly fictional basketball team are my presidents," from the poem "my president," from the book Homie by Danez Smith. In that poem, they do this ode to friendship, shouting out memorable people in their life and electing them to high office. I tell you, these poets know what they're doing.
Five books that you'll never part with:
As I scan my golden shelf... A People's History of the United States by Howard Zinn, A Heartbreaking Work of Staggering Genius by Dave Eggers, The Complete Stories by Flannery O'Connor, Interpreter of Maladies by Jhumpa Lahiri, and Brown Girl, Brownstones by Paule Marshall, among others. Most of the books I own are in my classroom for all to browse, except those books. Those stay in my living room under heavy surveillance.
Book you most want to read again for the first time:
The Catcher in the Rye by J.D. Salinger. Or maybe there's a book out there that understands my middle age as much as that book understood my teendom.
Book you can't wait to come out:
Play World by Adam Ross. Always been a fan of his storytelling and dark humor.