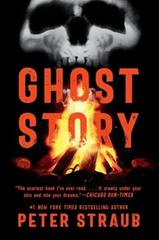 Peter Straub, "whose literary novels of terror, mystery and the supernatural placed him in the top ranks of the horror-fiction boom of the 1970s and '80s, alongside writers like Ira Levin, Anne Rice and his close friend and collaborator Stephen King," died September 4 at age 79, the New York Times reported. A fan of Henry James and John Ashbery, Straub published several poetry chapbooks before turning to novels, and began writing about the supernatural after two conventional novels were unsuccessful. Julia (1975) "was a novel that involved what turned out to be a ghost, so it was a horror novel," he told the Milwaukee Journal-Sentinel in 1996. "I didn't know much about the field at that time. I just wanted very much to write a novel that would make money so I wouldn't have to get a job. With the first sentence, I felt this enormous relief. I felt at home right away."

His next two novels, If You Could See Me Now (1977) and Ghost Story (1979), were also bestsellers. Both books were adapted into films, the former as Full Circle in 1977 and the latter in 1981. Julia was also filmed, as The Haunting of Julia. King, who wrote a blurb for Ghost Story, recalled: "We got it at the post office. It was all kind of split open. And so I was driving and my wife opened it and she started to read it to me. And by the time we got back to our house, we were both really excited, because we knew that this was really sort of a masterwork."

King and Straub teamed up in the early 1980s to write The Talisman. They reunited in 2001 to write a sequel, Black House, and were discussing a third book, but it was still in its earliest stages at Straub's death. "He was a unique writer in a lot of ways," said King. "He was not only a literary writer with a poetic sensibility, but he was readable. And that was a fantastic thing. He was a modern writer, who was the equal of say, Philip Roth, though he wrote about fantastic things."

Straub continued to write bestselling books, including the Blue Rose trilogy (Koko, Mystery, The Throat), which revolves around the hunt for a serial killer. Though there is nothing supernatural about them, each of the three books won a Bram Stoker Award from the Horror Writers Association. Overall, Straub's books and stories were nominated for a dozen World Fantasy Awards, winning four, and 14 Bram Stoker Awards, with 10 wins, among many other award nominations. He was named a World Horror Grandmaster in 1997, won a Stoker award for life achievement in 2006, was named an International Horror Guild living legend in 2008, and received a life achievement World Fantasy Award in 2010. His daughter, Emma Straub, author and co-owner of Brooklyn's Books Are Magic, wrote a tribute to her father on Twitter.