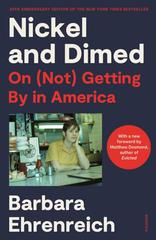 Author, journalist and activist Barbara Ehrenreich, whose Nickel and Dimed: On (Not) Getting By in America (2001) is considered a classic in social justice literature, died September 1 at age 81. In more than 20 books, Ehrenreich tackled a variety of themes: the myth of the American dream, the labor market, health care, poverty and women's rights. Her motivation came from a desire to shed light on ordinary people as well as the "overlooked and the forgotten," said her editor Sara Bershtel.

Ehrenreich's first book, Long March, Short Spring: The Student Uprising at Home and Abroad (1969, co-authored with husband John Ehrenreich), grew out of her anti-Vietnam War activism. Their second book, The American Health Empire: Power, Profits and Politics, was published the next year. Ehrenreich quit her teaching job in 1974 to become a full-time writer, selling a number of articles to Ms. magazine in the 1970s. In addition to her essays and articles for many publications, Ehrenreich's critically acclaimed books included The Hearts of Men: American Dreams and the Flight from Commitment (1983), Fear of Falling: The Inner Life of the Middle Class (1989), The Worst Years of Our Lives: Irreverent Notes from a Decade of Greed (1990) and Blood Rites: Origins and History of the Passions of War (1997).

Nickel and Dimed, however, "resonated with working Americans and became a turning point in her career," the New York Times wrote. The book's genesis was a casual lunch meeting at which Ehrenreich "was discussing future articles with her editor at Harper's magazine. Then, as she recalled, the conversation drifted. How, she asked, could anyone survive on minimum wage?" The resulting book, Nickel and Dimed, was "an undercover account of the indignities, miseries and toil of being a low-wage worker in the United States." Working as a waitress near Key West, Fla., Ehrenreich "quickly found that it took two jobs to make ends meet. After repeating her journalistic experiment in other places as a hotel housekeeper, cleaning lady, nursing home aide and Wal-Mart associate, she still found it nearly impossible to subsist on an average of $7 an hour. Every job takes skill and intelligence, she concluded, and should be paid accordingly," the Times wrote.

After the book's success, Ehrenreich "applied her immersive journalism technique to works about the dysfunctional side of the American social order," including Bait and Switch: The (Futile) Pursuit of the American Dream (2005), Smile or Die (2009) and a 2014 memoir, Living with a Wild God. Her most recent book, Had I Known: Collected Essays, was published in 2020. A 20th anniversary edition of Nickel and Dimed, with a new foreword by Matthew Desmond (Evicted), was released last year by Picador ($17).