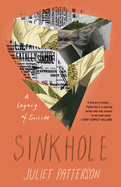 Shortly after her 77-year-old father hanged himself from a bridge near his home in St. Paul, Minn., Juliet Patterson embarked on a quest to unearth the source and meaning of that event, as well as the deaths of both of her grandfathers, also by their own hand. The result is Sinkhole: A Legacy of Suicide, a spare, sensitive evocation of Patterson's experience of grief, paired with an insightful work of family and regional history.
Following her father's death, Patterson made numerous trips to the small southeast Kansas town of Pittsburg, where her parents grew up and met. It was there that her paternal grandfather, Edward White Patterson, who served two terms in Congress as a New Deal Democrat in the late 1930s, shot himself in 1940, and her maternal grandfather, William McCluskey, only recently retired in 1967, drowned himself in a lake after slashing his wrists.
Not content to limit herself to these tragic family stories, Patterson also explores the social and economic history of Pittsburg and its environs. The area once was home to an extensive coal mining industry whose environmental legacy includes the phenomenon that provides the book's title.
More than 47,500 Americans die by suicide each year, and the rate of suicide increased by 33% between 1999 and 2019, so the problem of suicide has become an urgent one. Patterson (Threnody) brings a poet's sensibility as she excavates her own raw emotions alongside passages of clear-eyed journalism and creative nonfiction. Sinkhole is a painfully honest and sobering work that may provide insight and comfort to those facing a similar tragedy. --Harvey Freedenberg, freelance reviewer