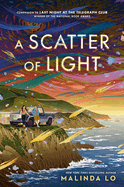 Malinda Lo follows up her 2021 National Book Award-winning YA novel, Last Night at the Telegraph Club, with the companion novel, A Scatter of Light, which takes place in 2013 and tells the powerful story of one young woman's life-changing summer of self-discovery.
Eighteen-year-old, half-Asian Aria Tang West was supposed to spend her final summer before college "on Martha's Vineyard with my friends, not in the remote woods [of California] with my grandmother." She expects a few forgettable months, until she befriends Steph, her grandmother's gardener. "Boyish" 20-something Steph inspires confusing feelings for Aria--"a sweet ache that I was embarrassed to feel"--even as Aria befriends Steph's girlfriend, Lisa, and the other members of their working-class queer community. Against a verdant, sun-drenched California backdrop, Aria reevaluates her desires: who she wants to be and who she wants to be with.
Lo's novel explores the complexity of queer identity through a sex-positive lens. Flashbacks to Aria's past sexual encounters reveal her struggle distinguishing between her own desires and social expectations. Lo vividly conveys the giddy euphoria of a teenage crush while also recognizing the fraught nature of Aria and Steph's mutual attraction when Steph is in a relationship with someone else. And yet A Scatter of Light does not make moral judgments about its characters--Aria's foibles and mistakes are what make her a compelling protagonist.
Both newcomers and longtime fans of Lo's work should enjoy this narrative of a young woman coming to understand herself and her wants better. --Alanna Felton, freelance reviewer