Joyfully, cookbooks aren't only for adults. Whether young people are novice cooks or aspiring chefs, 2022 gave them tons of fabulous options for expanding their collection of recipes. Here we have books for a range of ages in a variety of different formats, including traditional cookbooks, nonfiction explorations of food and picture book stories with bonus recipes.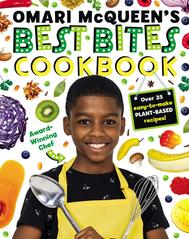 Omari McQueen's Best Bites Cookbook by Omari McQueen (BuzzPop/Little Bee, $16.99, ages 8-14)
Thirteen-year-old Caribbean British celebrity chef Omari McQueen offers upbeat guidance to beginner cooks interested in vegan recipes "that will blow your parents' minds" in the breezy, candy-colored Omari McQueen's Best Bites Cookbook.
McQueen gives simple, encouraging instructions on creating delicious plant-based dishes inspired by his Jamaican and Antiguan heritage. Snacks like "Nicely Cheesy Dip" and heartier fare such as Jamaican patty hand pies and sweet treats, including "Plum & Blackberry Crumble," are each accompanied by a beautifully styled example photographed by Xavier D. Buendi. McQueen encourages cooks to be creative but to go at their own pace when experimenting with flavors, especially the abundance of peppers and spices in Caribbean cuisine. Young readers will broaden their culinary horizons with this collection from an inspiring role model who proves following a passion can lead to a fulfilling path. --Jaclyn Fulwood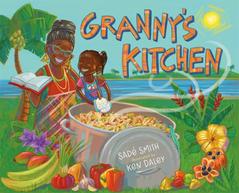 Granny's Kitchen by Sadé Smith, illus. by Ken Daley (Feiwel & Friends, $18.99, ages 3-6)
Debut Canadian author Sadé Smith and illustrator Ken Daley celebrate their shared Caribbean heritage in the vibrant Granny's Kitchen. "Shelly-Ann lived on the beautiful island of Jamaica" with her Granny, who is quite the chef. Whenever Shelly-Ann asks Granny for something to eat, Granny replies with "GYAL, YOU BETTA CAN COOK!" and begins a lesson. Shelly-Ann experiences a few stumbles: her "dumplins burn," her ackee's too soft, her fish too salty. One morning when Granny is tired, Shelly-Ann surprises Granny with breakfast in bed--the food (almost) perfect because it was made with love. Smith appends Granny's recipes at book's end, with a reminder for aspirational young audiences to always cook with an adult. --Terry Hong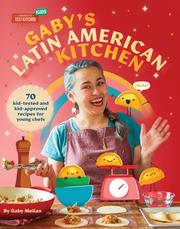 Gaby's Latin American Kitchen by Gaby Melian (America's Test Kitchen, $22.99, ages 8-12)
Celebrity chef Gaby Melian dishes out family recipes in Gaby's Latin American Kitchen, a confidence-building cookbook for young chefs that offers a dash of history alongside 70 recipes. Chapters offer options to be enjoyed throughout the day including meriendas y bebidas (snacks and drinks) and guarniciones y salsas (sides and sauces). The beginner through advanced recipes span Latin America; each recipe includes the country of origin, shown on a map at the cookbook's start. Clear instructions encourage cooks to build skills by moving methodically through the steps of food preparation, and each recipe is broken into three sections: ¡En sus marcas!, ¡Listos!, ¡Fuera! (Ready! Set! Go!) Frequent sidebars offer Melian's personal connections to the dishes, cultural details or quotes from some of the cookbook's 15,000 young testers and appetizing photographs accompany every recipe. An upbeat and informative bilingual resource that equips young cooks for delicious success. --Kit Ballenger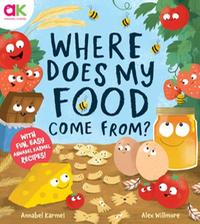 Where Does My Food Come From? by Annabel Karmel (Welbeck Children's, $16.95, ages 4-6)
In Where Does My Food Come From? Britain's Annabel Karmel, a luminary in the field of children's nutrition, takes a multifaceted approach to piquing kids' interest in the food they eat. She tells the where-it-comes-from story for eggs, cheese, tomatoes, pasta, strawberries, honey and chocolate, and supplies corresponding simple recipes and food-based activities (Cheesy Robots, Pasta Mosaic). Chapters are packed with puns (readers can make Eggs-tra Special Frittata Muffins) and exclamation-pointed fun facts ("The strawberry isn't a true berry! On the other hand, avocadoes and bananas ARE actually berries!"). Alex Willmore (The Runaway Pea) makes everything even more appetizing with his garden-bright illustrations of food workers on the job and kids chowing down. --Nell Beram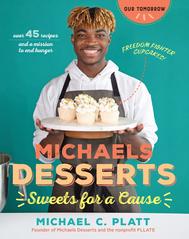 Michael's Desserts by Michael Platt (Get Creative 6/Union Square, $17.99, ages 8-12)
Sixteen-year-old Michael Platt inspires readers to bake and affect change in Michael's Desserts, a scrumptious cookbook of sugary goodness and social activism. Young culinary enthusiasts can find a dessert for any occasion in the teen's debut kitchen reference: cakes, pies, snacks and his signature cupcakes grace the pages.
Platt offers a primer explaining necessary tools that may not be readily available in every kitchen and includes insight on recipes where extra adult help may be needed (frying beignets) or where beginners are likely to have better luck starting (jam tarts). But the real prize in this gem is Platt's narrative. He shares personal connections to recipes that have been passed down in his family and provides background on the themes of his signature Freedom Fighter Cupcakes. His own story of determination and social consciousness puts the icing on this cake. --Jen Forbus