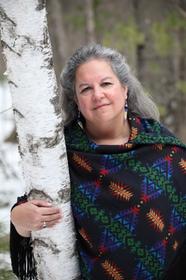 (photo: Dale Kakkak)
Robin Wall Kimmerer is a mother, scientist, professor and enrolled member of the Citizen Potawatomi Nation. Recently, she received a 2022 MacArthur 'Genius' Fellowship. Kimmerer is the author of Braiding Sweetgrass: Indigenous Wisdom, Scientific Knowledge and the Teachings of Plants, which has earned wide acclaim, and Gathering Moss: A Natural and Cultural History of Mosses, which received the John Burroughs Medal for outstanding nature writing.
Her new book is Braiding Sweetgrass for Young Adults: Indigenous Wisdom, Scientific Knowledge and the Teachings of Plants, adapted by Monique Gray Smith and illustrated by Nicole Neidhardt (Zest Books/Lerner).

On your nightstand now:
I'm currently reading The Nutmeg's Curse by Amitav Ghosh. It's a compelling narrative of the ravages of colonialism, all tied together by commoditization of charismatic plants. The storytelling is so gripping that I put it down to let it soak in and then picked it up again.
Favorite book when you were a child:
That's hard to choose since I was a voracious reader, but I think Freckles by Gene Stratton-Porter was the one I read over and over. The images of the rich forests, the female naturalist and the sense of wonder and discovery in the natural world drew me in. It gave a name to what I wanted to be when I grew up. And I must call out My Side of the Mountain by Jean Craighead George, which was my dream life. Still is.
Your top five authors:
Louise Erdrich: I bow in gratitude for her storytelling, which transports and transforms. I think I've read everything, and I hate to be greedy, but I always want more. Her imagination sweeps me away.
Linda Hogan: she calls down the stars with her lyrical language and invocation of the mystery of the animate, enspirited world.
Louise Penny: because I'm secretly in love with Armand Gamache.
Barbara Kingsolver: Her stories are deeply satisfying, like literary food. I marvel at how she can infuse a great story with good science and insightful ethics.
Brian Doyle: I can read him again and again for the rich humanity of his people, human and more-than-human.
Book you've faked reading:
Why would I do that?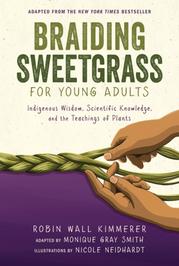 Book you're an evangelist for:
Wisdom Sits in Places by Keith Basso invites you into the stories that live in an Indigenous cultural landscape. It's a gateway into understanding the land as teacher and I'm always advocating for it as an example of listening to the land.
Book you've bought for the cover:
Firekeeper's Daughter by Angeline Boulley has a spectacular cover, and the story inside matches its color and intensity.
Book you hid from your parents:
Not a one. I was blessed to have parents who encouraged us kids to read and explore whatever was on our minds. I remember my folks marching into my elementary school library after a teacher wouldn't let me sign out a book that was deemed "too old for me." Needless to say I had free rein after that.
Book that changed your life:
Lewis Hyde's brilliant book The Gift gave me a vocabulary for how I experienced the world. I still find it provocative and mysterious in the way of the gift.
I also have to list David Abram's The Spell of the Sensuous here, which is an intellectual companion. David's illumination of the reciprocal relationship between observed and observer helped me know I was not alone.
Favorite line from a book:
Mary Oliver, of course: "My work is loving the world."
Five books you'll never part with:
My very tattered copy of Leaves of Grass by Walt Whitman is a constant companion and opens my eyes every time I open it.
The Overstory by Richard Powers for its deep storytelling of how our lives are inseparable from the lives of trees. I admire the pathway he creates into the forest, the immersion in plant sciences... and that one chestnut.
Piano Tide by Kathleen Dean Moore. I cherish each of Kathy's many books of essays and her novel is a special delight. It is so evocative of the smells and sounds of place. The quirky characters are intensely memorable and live out their bonds to land and each other.
Indian Horse by Richard Wagamese is a necessary heartbreak.
Jerry Jenkins's Mosses of the Northern Forest is a joy to me. Whether you think you're interested in the microcosm of mosses or not, it's an invitation to another world of stunning beauty right at your fingertips. I think of it as a visual companion to Gathering Moss.
Book you most want to read again for the first time:
Gardens in the Dunes by Leslie Marmon Silko. That book transports me to another place and time that is very different from my own but deeply familiar at the same time. I'm lost and found at the same time.