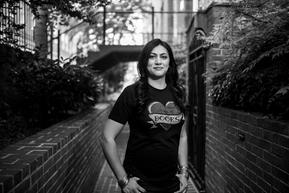 Sabaa Tahir
(Ayesha Ahmad Photography)
Author Sabaa Tahir recently won the 2023 Michael L. Printz Award for her National Book Award-winning novel, All My Rage (Razorbill).
All My Rage has now won both the National Book Award and the Printz (and it's a bestseller). Considering this title had already won an NBA, were you hoping it might get a Printz nod, too?
The [notification] call was emotional, funny, moving and so, so joyful. I thought we were talking about paper stock for the paperback of All My Rage, because it's out at the beginning of March. And since I'd only ever heard that award winners were notified the morning of the Youth Media Awards, I wasn't expecting anything. When the committee came on the screen and told me, I cried and scared my cat and then babbled a lot of thank yous.
Regarding any hope around the Printz--I was still in shock from the National Book Award! This book has found such love in the world--I am very grateful for that.
Would you kindly give readers your two-sentence pitch for All My Rage?
Of course! All My Rage is a YA coming-of-age story about two high schoolers, Noor and Salahudin, trying to survive a Mojave Desert town that seems intent on crushing them. It also follows Salahudin's mother, Misbah, as she emigrates from Pakistan to America and all the hope, joy and struggle that come with such a journey.
Shelf Awareness's review notes that the rage expressed in the book is tangible, "evocative and ever-present." Did you have to put yourself in a certain headspace to evoke this kind of emotion?
I used to call AMR my "anger" book, because I would work on it when I was filled with rage--at society, the news, dictators abroad, dictators at home--you name it. I was angry when I wrote the early drafts of this book, and found that, when I went to edit it, I had to temper that anger, to meld it with other truths: empathy, love and hope. That was the alchemy that made the book work, both for me and for my agent and editor.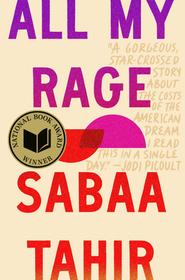 What kind of research did you do for this book? I imagine you had to do some work to make sure the historical aspects of the novel were correct, but were there other things you had to investigate?
So much research! I talked to doctors about emergency room medicine, particularly with children and teens. I talked to a doctor extensively about kidney disease and exactly what would happen during renal failure. I talked to a lawyer about what Salahudin would be facing in the courtroom and what usually happened in drug cases like his and Noor's. I repeatedly sat at a courthouse for hours, just trying to get a sense of both atmosphere and procedure. I talked to a former paramedic, author Daniel José Older, about EMTs and Narcan. That's really the tip of the iceberg. The research happened over years and took ages.
What I think is particularly cool about this book getting so much love is that it's your first work of realism. What made you want to move away from the fantastic and into the terrestrial? How was writing realism different than writing speculative fiction?
It was a very challenging switch. I reminded myself almost daily, "Hey you can't fix this problem with magic. And the tension can't always come from battle scenes!" At the same time, my books at their core are about hope in dark times, through difficult circumstances. Hope sustained me through so much of my own life and seeing it in books meant so much to me as a kid. So, in that regard, hope served as a touchstone for me. When I was panicking that I didn't know what I was doing, I'd tell myself, "This is a story like all the other stories. And you have to tell it honestly."
This is also your only book that is not part of a series, correct? Did it feel different to write a book that had to encapsulate the entire story you wanted to tell?
It was a bit of a relief! I don't have to worry about coming up with a sequel. But at the same time... that made the ending bittersweet. Characters stay with me. These ones lived in my head for more than a decade. I miss them.
Are you working on anything now?
I am working on a young adult fantasy about a tracker, a prince and a vengeful fugitive. It is great fun! I hope to be able to talk more about it soon.
Is there anything else you'd like to tell Shelf Awareness readers?
Please support your local and school libraries! Librarians are having to deal with more book challenges than ever before, and they need to know that we believe in them and that we are behind them. --Siân Gaetano, children's and YA editor, Shelf Awareness