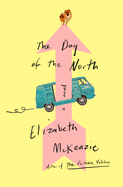 Even the dilapidated sea-green van, the titular "Dog of the North," is oddly likable in this boisterous novel from Elizabeth McKenzie (The Portable Veblen). The Dog of the North features sympathetic narrator Penny Rush and her quest to untangle generations of family idiosyncrasies and puzzles, ever hopeful that she might discover a path to happiness. Penny confronts problems at hand with rare glances at her past: an abusive father, the disappearance five years earlier of her mother and stepfather in the Australian outback, the recent (and welcome) end of her marriage.
Penny is summoned to Santa Barbara, Calif., by her 85-year-old grandmother's kindly accountant Burt to "square away" her situation following "a recent incident involving Meals on Wheels." And Penny's ride in "the Dog," Burt's van/storage unit, is a lark compared to her destination. Her grandmother, Dr. Pincer, is a hoarder: her house "looked as if there'd been a carnival and nobody cleaned up." When Penny hires a cleaning crew, their discovery of a literal skeleton in the woodshed leads to a police investigation. And grandfather Arlo Reshnappet, a kind and wise nonagenarian, needs Penny to rescue him from his second wife, Doris Roofla, who declares it's time to "put him on the ice floe and say goodbye."
Penny juggles absurd twists with equanimity. She and Arlo spontaneously fly to Australia, following a lead on her parents' fate, then fresh Pincer shenanigans draw her to Texas. Humor and sorrow conspire until Penny concedes that her "equilibrium, fragile to begin with, was being rocked." Crises stabilized, Penny makes a final road trip in "the Dog," which might transport her to what could, at last, be joy. --Cheryl McKeon, Book House of Stuyvesant Plaza, Albany, N.Y.