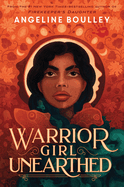 The Ojibwe-centered young adult thriller Warrior Girl Unearthed--a propulsive companion to Angeline Boulley's blockbuster debut, Firekeeper's Daughter--entwines the scourge of murdered and missing Indigenous women with bonds of community and the reclamation of artifacts.
Headstrong Perry Firekeeper-Birch begrudgingly participates in the local Kinomaage summer internship program to repay a loan from her Auntie Daunis Fontaine. Sixteen-year-old Perry bounces between assignments, receiving a crash course in anthropology and bureaucracy, which encourages her to increasingly extreme and remorseless liberations of cultural artifacts with direct tribal community connections. The planned reclamation of one white man's "treasures" leads to murder and a gruesome discovery. Meanwhile, Perry commits to "whatever it takes to reclaim every" artifact, and the epidemic of missing Indigenous women sweeps Sugar Island, Mich.
Fans of Boulley's Printz Award-winning bestseller should welcome the familiar setting and 2014 versions of characters from the original novel, while newcomers are invited in through helpful recaps. This deeply Anishinaabe story is well-paced, with chapters divided by weeks of the internship program. It features often untranslated Ojibwemowin and nicely blends action-packed exploits with thoughtful social insights. Boulley again delivers a genre-defying tale featuring a strong female lead (who happens to fall for an outsider).
With its dramatic plot, respect for heritage, and celebration of community, Boulley's companion novel proves to be another blazing tour-de-force. --Kit Ballenger, youth librarian, Help Your Shelf