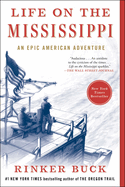 For Rinker Buck, conquering the 2,000 miles of river between Pittsburgh and New Orleans on a hand-built wooden flatboat was more than an attempt to sate his lifelong appetite for adventure--it was a way of exploring an overlooked but crucial chapter of American history. In Life on the Mississippi, his illuminating and entertaining account of his days aboard Patience, Buck (The Oregon Trail) describes how his fascination with the flatboat deepened and transformed his understanding of the country and its past.
The reasons for the craft's marginalization in history, Buck suggests, are twofold. First, the lofty outlook of many traditional historians does little to reflect the "hardscrabble, edgy lives of most 19th-century Americans," of which the flatboat was a product. Secondly, few traces of the flatboat era have survived in the physical culture of the U.S. Most flatboats, upon reaching their destination, were stripped and sold as salvage, helping build the young nation's infrastructure and the boatman's profits.
Buck's ability to deftly balance the intimate and the epic, along with his pervading charm and literary panache, make Life on the Mississippi--a Shelf Awareness Best Book of the Year, and a Best Nonfiction Book of the Year for Kirkus and the Christian Science Monitor--a delightful and engrossing read. --Theo Henderson, bookseller at Ravenna Third Place Books, Seattle, Wash.