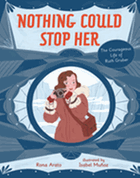 Rona Arato chronicles the adventurous and admirable exploits of a globetrotting, boundary-pushing journalist in the upbeat chapter-book biography Nothing Could Stop Her: The Courageous Life of Ruth Gruber, illustrated by Isabel Muñoz (The Singer and the Scientist).
Intellectually gifted and deeply curious, Brooklynite Ruth Gruber excelled in school. At only 20, she earned a doctorate in Germany in 1932, during Hitler's rise to power. Gruber, Jewish and a brilliant linguist with wanderlust, capitalized on opportunities to travel and returned to Europe in 1935--much to the chagrin of her parents, who worried about escalating antisemitism. "No use trying to stop you," her father said. As a foreign correspondent, Gruber routinely challenged gender norms and societal expectations as she sought far-flung locales, including a collective farm of the Yakut people in the Soviet Arctic and in occupied Italy. "She filled dozens of notebooks... and she took as many pictures as she could," raising awareness about underrepresented populations. While this story ends with notable activism in 1945, an author's note in the backmatter explains that Gruber's journalistic and political work continued for decades longer.
Arato (The Ship to Nowhere) efficiently covers Gruber's commendable exploits using brief, active chapters, often with breaks. Most spreads feature either an informative sidebar or one of Muñoz's expressive spot illustrations, which delightfully capture changing trends in addition to Gruber's escapades. Scalloped chapter headers and quaint, floral glyphs help create a calm reading experience, while the icy blues seen throughout the book evoke the chill of Gruber's remote Arctic and Alaskan assignments.
This enthusiastic biography charmingly depicts the commitment and tenacity of this intrepid explorer-journalist. --Kit Ballenger, youth librarian, Help Your Shelf