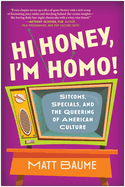 Seattle-based journalist and pop culture critic Matt Baume (Defining Marriage) charts the arc of queer visibility on American TV sets in his well-curated compendium of prime time broadcasting, Hi Honey, I'm Homo!: Sitcoms, Specials, and the Queering of American Culture. Arranging his survey chronologically, he considers the seeds of coded language and themes early on that eventually blossomed into more frank and empathetic depictions by the turn of the 21st century.
Bewitched, for example, first aired in 1964, and was "laden with gay subtext--despite its main characters being a heterosexual couple." The show never mentioned homosexuality; however, the running theme of hiding the family's divergence from mainstream society resonates with the lived experience of many in the LGBTQ+ community, then and still. Not to mention that of cast members like Paul Lynde, Maurice Evans, and Dick Sargent.
Comparatively, the more recent gay-forward comedies Will & Grace (1998) and Modern Family (2009) show how much progress there has been in the interim 40 years. Baume does meticulous reporting on the push-pull relationship between networks and audiences that defined the culture in the process. Furthermore, he provides good antidotes to any forgetfulness about the resistance that these two mega-hit series faced from the jump.
With touching stories about allies in the cast of The Golden Girls (1985) and a nail-biting account of events leading up to the outing of Ellen DeGeneres (1997), Baume is a companionable guide behind the scenes of some of the biggest sitcoms in American culture. --Dave Wheeler, associate editor, Shelf Awareness